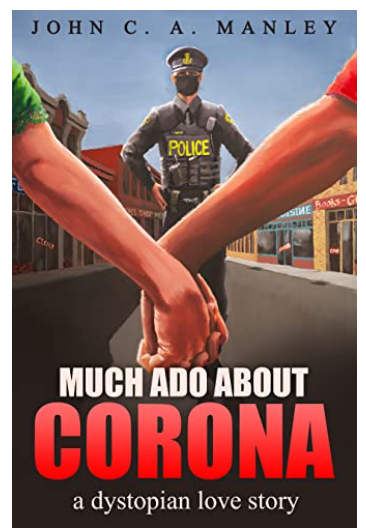 Whenever I can I like to support fellow freedom and truth seekers. We are a strong and growing community now but at the beginning of 2020 there were a rare few Pioneers. John Manley was one of the first . We have formed a friendship with John . He resides in Stratford Ontario ( Home of the world class Shakespeare Festival )
Goldtent has become a part of this Movement and our readership is growing every day. My Partner Todd ( Audept) and I feel privileged to have this forum and we gladly provide it free of charge and free from advertisers. We confidently Promote our good friend and the Worlds Finest Technical Precious Metals Analyst Rambus and that's ALL as far as commercialism . This is a labor of love .
It would be greatly appreciated if everyone purchased a copy or 10 of this remarkable new Novel as a show of support for a great young man who is truly the epitome of what we ALL are about. I humbly make this request and am certain you will not be disappointed when your engage and embrace this page turner
Thanks all
Fullgoldcrown
NOW AVAILABLE
Much Ado About Corona now available…
MuchAdoAboutCorona.ca
Wed 2022-03-30 12:51 PM
Dear Reader,
Much Ado About Corona: A Dystopian Love Story is now available for sale from Amazon in AND paperback format.
https://muchadoaboutcorona.ca/corona/order/
(Next week, it'll also be available in hard cover and through other retailers—including your local bookstore.)
And this evening, at 7pm EDT, I'll be reading the prologue and opening chapter, plus answering questions, at the virtual book launch event hosted by Vaccine Choice Canada.
https://wed.vaccinechoicecanada.com/
As Dr. Gary Magder recently said, after reviewing an advanced copy, "I predict Much Ado About Corona will become and stand as a testament to what we, the resistance, collectively endured in the name of truth and freedom these last two dark years."
Be brave. Read books. Stay sane!
—John C. A. Manley