WHICH IS BETTER ?
WHICH IS MORE RELIABLE ?
I haven't seen a study yet…because there is NO study
You would think someone would hand out Crispy Creme Donuts and Beer to 10,000 people who are Vaxxed and take some blood and look for Antibodies 2 weeks after vaccination .
Then do the same with Covid Confirmed Recovered cases
Then compare.
Why the hell do they assume you are immune after vaccination but do not assume you are immune after recovery ?
You want a REAL PASSPORT >>> Prove you are Immune not Prove you had the Vax .
Since we don't have a study lets use common sense..Remember That ?
170 Million Confirmed cases in the World and Not ONE…ZERO…report of death after recovering
And only a tiny handful of suspected second infections…most asymptomatic
However There have been 10s of thousands of "breakthrough" cases after vaccination…so many in fact that the have decided to STOP Counting them.
So which type of immunity is better and WHO should be given a "Passport ?"
Also it must be noted that Natural Immunity to the "whole" Virus…is obviously superior to Artificial Immunity to a tiny portion of it ( Spike Protein )
Eh ?
THEN THERE IS THIS !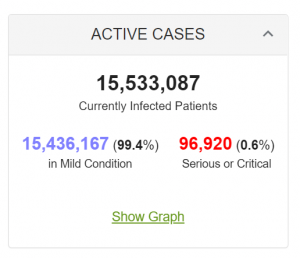 994 OUT OF EVERY 1000 "CASES" PRESENTLY UNRESOLVED IN THE WORLD ARE "MILD"
15 million more people are about to become FULLY IMMUNE
Hurray for our immune systems