This video of The Fauch and DC Mayor Bowowser going Door to Door in DC pleading with the Plebs to get Vaxxed ( and offering to pay them ) in 2021 has just surfaced NOW
Check out this Guy…Whoever he is is MY Hero for LIFE !!! I would love to meet him and shake his hand . Whatever your day is like so far..this will make it BETTER ! BETCHA CAN'T WATCH IT ONLY ONCE !
UPDATED LINK…watch BOTH Videos…The first (1 min) will make you sick…the second ( 2 min ) will cure what ails you
https://twitchy.com/dougp-3137/2023/03/20/that-time-a-guy-wrecked-dr-faucis-door-to-door-sales-pitch-in-dc-its-amazing/?bcid=cb92e596fc38843b3697ca73a889ebafdbc8acf23f285421be1aabf6b81cf11c&utm_campaign=nl&utm_medium=email&utm_source=twtydaily
Here is another version..on Twitter…read comments !
https://twitter.com/liz_churchill8/status/1637636514128560129?utm_source=substack&utm_medium=email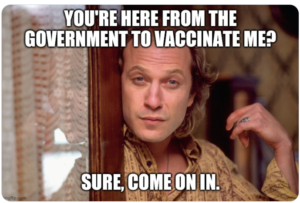 THIS WAS A DOCUMENTARY…HERE IS THE FULL VERSION ( 7 MINUTES…MUST WATCH TO THE LAST SECOND )