WE WEAVE WHEN FIRST WE PRACTICE TO DECEIVE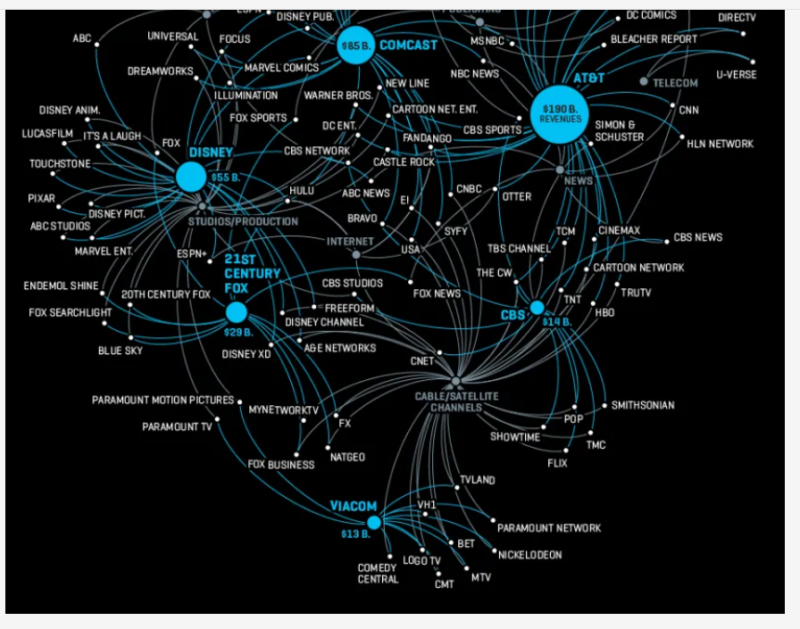 Note: this same pattern of ownership continues down to the local news stations and can also be seen within the print media, but cannot be shown within a single image as there are too many of them.
Likewise, due to the centralized control of the media shown above (almost every television news outlet is owned by 6 companies), it is possible to rapidly disseminate each carefully crafted message across the media landscape, and this frequently happens. This is one of the best montages I have seen, but by no means the only example:
MUST SEE
https://www.youtube.com/watch?v=_fHfgU8oMSo&t=0sec
FROM A LONG BUT INFORMATIVE ARTICLE
https://amidwesterndoctor.substack.com/p/what-is-the-third-party-technique?r=oy50p&utm_campaign=post&utm_medium=email
So…This is What we are up against !!
Solution on a personal level…
1…NEVER watch any of this BULLSHIT !
2…Seek and Find Alternative "Independent" Sources
3…Escape the Matrix by any other means possible.
sheesh
a ray of hope ?
"Fortunately, over the last 7 years, there appears to have been a gradual public awareness of the insidious creep of PR into our lives, and as the PR has gotten more and more aggressive, more eyes have become opened. For example, a significant amount of attention was recently drawn to the fact that the CDC's vaccine division uses the same PR firm as Pfizer and Moderna (which means any doubt they are not working together on vaccine PR campaigns can be dispelled)
I am very hopeful for this future but simultaneously recognize that power is one of the hardest things to let go of, so we will likely see a very rocky transition as we move towards it. In the meantime, I believe one of the most important things you can do is begin to open your eyes to the common PR techniques out there. Once you do, it's astounding how differently everything looks."