"The Government of Canada is publishing its official Covid-19 data in a way that makes it appear Canada is very much experiencing a 'Pandemic of the Unvaccinated', and that the Covid-19 vaccines are clearly effective. But this data is a fraud.
Page 20 onwards of the downloadable pdf contains data on Covid-19 cases, hospitalisations and deaths from the very start of the Covid-19 vaccination campaign in Canada on 14th Dec 20 all the way through to 27th Feb 22.
And it is this date parameter that makes the presented data extremely misleading, because there was a huge spike in Covid-19 cases, hospitalisations and deaths in January 2021 when just 0.3% of Canada were considered fully vaccinated.
But thanks to the gift of the 'WayBackMachine', we can look at previous Government of Canada Covid-19 Daily Epidemiology Update' reports to deduce who is actually accounting for the majority of these deaths, hospitalisations and cases."
https://dailyexpose.uk/2022/03/20/gov-canada-data-triple-vaccinated-have-a-i-d-s/
This Outfit Expose has a very good record for number crunching in my experience …this is an eye opener . Final nail in the Covidiot Coffin. They have NO comeback to this analysis. The vaxx does NOT help you in any way ..it actually destroys your natural Immunity.
thanks Ray
OK …THIS DOES NOT SEEM RIGHT….BUT…MAYBE IT IS.
HOW DO WE RECONCILE THIS GRAPH WHICH SHOWS 13 MILLION UNVAXXED CANADIANS OUT OF 38 MILLION
OR 34%
I KNOW THIS INCLUDES KIDS UNDER 5 ETC BUT ALL STATS WE SEE ARE SAYING 85% OR SO OF CANADIANS ARE AT LEAST SINGLE VAXXED….WHICH IMPLIES 15% ( 5 MILLION OR SO ) ARE NOT VAXXED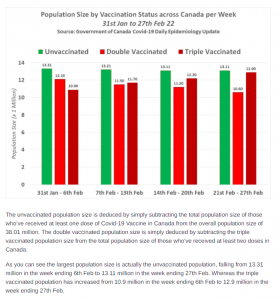 Here it is…extracted right from the Canadian Public Health Site

So Yes 38 million total minus 25 million at least 1 vaxx = 13 Million Pure Bloods.
So right away we see the gov't has been BULLSHITTING US into thinking almost everyone is vaxxed
34% ( 13 Million ) Canadians are NOT vaxxed …at all !
The official Figure for Ontario ( see below post which is a good proxy for all of Canada is 15% of the total population is not vaxxed .
Looks like the official Figure is BULLSHIT MAXIMUS !
To be fair these figures include the younger age groups ( 0-5 , 6-18 etc who are lower vaxxed and less likely to be hospitalized and die)…so comparing these groups of no vaxx Double vaxx and Tripple vaxx …is not apples to apples …however even accounting for this the Doubles and triples are dying at a higher rate
raw data ( not accounting for age)