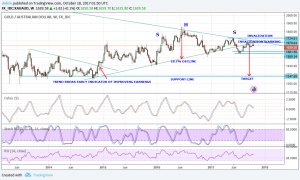 I use Gold priced in A$ as a proxy for GDX/gold forecast since it is closely related to revenue of the 93% of non US producing mines.
If the H&S pattern shown is correct we should return to the support line. Allowing for interim weakening of the A$ to say .77 then the forecast for Dec/Jan gold price would be say $1347*.77=$1037
If we are forming the right shoulder of a smaller H&S now under the ascending trendline the target would be about $1150. I think this is more accurate since there are no spikes in the data.
Invalidation points are marked should the earnings picture change