Its a great story and deserves its own Post so it won't be missed :
Well done Optional
"Thanks Fully for including me in the gold bug group photo! Since were sharing gold bug stories, I will follow up to my story I touched on over at Spocks. From an early age, both the California gold rush and the great depression periods were of interest to me and still are to this day. Both my father and my grandfather were hobby/part time prospectors. I was born and raised in El Centro Ca, 9 miles north of the Mexican border. It's a farming community that's 42 feet below sea level that is surrounded by desert and mining history in nearly every direction. My favorites were the mining rich mountains in Baja Mexico to the south and the mountainous region to the east along both sides of the Colorado River. My grandfather would often take me on his prospecting ventures many times checking me out of elementary school shortly after my mother dropped me off that morning. He would always saw, "we will ask for forgiveness when we get back home" and off we would go. We would use a homemade hand operated air bellows dry washer to accumulate our material and with a gold pan and some water, it was hobby sampling at its best. We would always eat lunch at one old mine site or another on the tail gate of an old Datsun pickup truck. My father and I would often drive down to an old mining village in Baja Mexico call El Alamo. We would mine by hand with pick and shovel and then wash the material in the creek using a wet slushbox. I was absolutely fascinated with the remains of the old vertical stamping mill that sat on the hillside above the creek upstream from the village. I would often craw around the inside of the old mill studying how the shafts, gears and cams worked for raising and dropping the vertical steel stamps that crushed the ore. Some of the best memories came from bathing in the creek and cooking on a mesquite wood fire. Using the stake pockets in the bed of an old dodge truck, we would take ¾" PVC pipe and make an arch from one side of the bed to the other and then tarping if like the old calistoga wagon for a dry place to sleep at night. It was truly some of the best days of my life and often wish I could go back. I still have every little nugget, flak and spec I ever found. I had been making hand operated air bellows dry washers as a kid and sold them to my grandfather's prospector friends. When I was 18 or so, I got the bright idea that I would sell blue prints for building your own dry washer. I ran an add in one of the prospectors magazines advertising my blue prints and sold a whopping 4 sets. Little did I realize, very few people even knew what a dry washer was let along wanted to build one. One set of prints got mailed (all the way to Alaska) and as a kid, that made the whole thing worthwhile. In my 20's and 30's, I collect many of the old one cylinder hit and miss gas engines that were used in the mining industry from the late 1800's on. Another bug that's very hard to shake. Thanks to a friend, I landed a job in 1992 working for Chevrolet's off road race team. Our mission was to win the Baja 1000. I ended up being the chief mechanic, co rider and back up driver. Not bad for being the son of an auto mechanic and a shade tree mechanic my self. Oddly enough, we raced right through El Alamo Mexico, the very place my father and I mined in previous years. I have been extremely lucky over the years to have been surrounded by some of the very best people in industries ranging from commercial refrigeration, racing, real estate, timber lands, disaster recovery and now, mining the Jr's with a computer. It's funny how life can take you full circle. I recently discovered last week that I was at an original old mine site when I was around 12 years old (35 years ago) that's now about to become the next Spock rock. I could have never imagined something like this ever happening. My life has had a strange way of current ventures crossing the path of past ventures and here it's happened again with my recent involvement with the Jr's. For the very first time in my life, I feel like I'm right where I'm supposed to be. Surrounded by the best tallant in the industry. An old friend once told me that "luck was preparation meeting opportunity." Between Spock and all the great dedicated contributors here on the Tent, I'm feeling pretty lucky. Thanks to all who participate in making this experience something to remember!
Edit
Just for fun. This is an example of one of the stationary engines I collected. Its was made in 1902 by the Foos Gas Engine Company. It made 22 HP and had 61? flywheels. I was lucky enough to once own it but ended up selling the entire collection to start a business. It ran like a watch. It weighed around 8000 lbs and was originally used in a Colorado mining operation back in its day.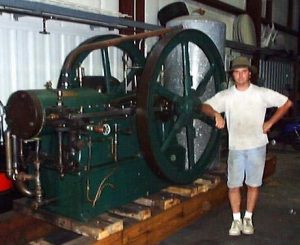 This stuff runs thru my veins