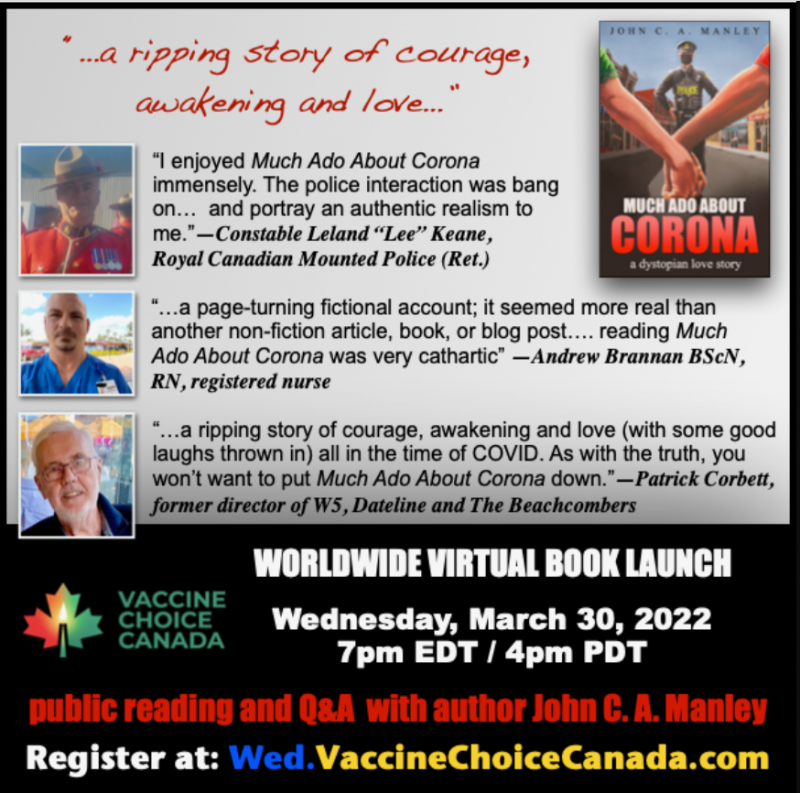 John is a Goldtent Supporter / Contributor . He is one of Us
Lets support him.
He was one of the earliest to Strongly Question the Covidians with his website of the same name.
We are the Resistance . We are a Community of Truth , Teeming with Brilliance . Brilliant Meme Artists , Brilliant Comedians , Brilliant Musicians . Brilliant Satire Artists , Brilliant Analysts , Researchers , Doctors , Lawyers and just plain Brilliant Individuals like you all….but up until now we have not had a Brilliant Novelist.
This is a Book we can ALL relate to …the first of its kind..I predict it will become and stand as a testament to what We the Resistance collectively endured in the name of Truth and Freedom these last 2 dark years.
Here's a Taste : CHAPTER 79 The North Pole's Pharmaceuticals Department
Make sure to click on the Audio and listen to John read and sing this chapter ( what a voice)
https://muchadoaboutcorona.ca/chapter-76/
…………………..
Register for the Launch here .
https://us02web.zoom.us/meeting/register/tZ0rc-mgrTgsEtFY093s01_ICrV4cA8M5vwJ
…………………………..
Introduction and Synopsis
https://muchadoaboutcorona.ca/corona/
…………………………..
I am going to purchase several hard cover copies to pass around and one to display on my truck dashboard
Congratulations John , Break a Leg
FGC