NEVER IN HISTORY HAS THERE EVER BEEN AS VOLITILE A MARKET . THE MOST IMPORTANT MARKET !
… THE OIL MARKET OF THE 2020s…
OIL FUTURES crashed 2 YEARS AGO PRETTY MUCH TO THE DAY TO WAAAYY BELOW ZERO
YOU HAD TO PAY A "BUYER" TO TAKE YOUR OIL OFF YOUR HANDS !
THE COVID CRASH WAS HISTORIC ….A NEGATIVE FUTURES PRICE FOR THE MOST IMPORTANT COMMODITY ON THE PLANET.
AND IT WAS ACTUALLY PREDICTED BY THE WIZARD ….FOR A LONG TIME.
WITNESS "THE MOST AMAZING CHART ON THE PLANET" click on charts to expand
https://goldtadise.com/?p=462960
AND NOW PRECICELY 2 SHORT YEARS LATER…OIL SPIKED TO $140 A BARREL YESTERDAY!
AND TODAY DROPPED 30% IN EXHAUSTION .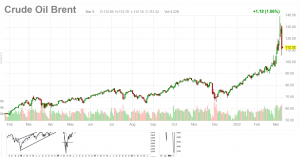 NOW THAT'S VOMITILITY !