Believe it or not this Move in Commodities as proxied by the CRB Index was predicted by Rambus years ago
Perhaps the most amazing call in Market History ( In my opinion) Decide for yourself for i am biased towards The Wizard of Rambus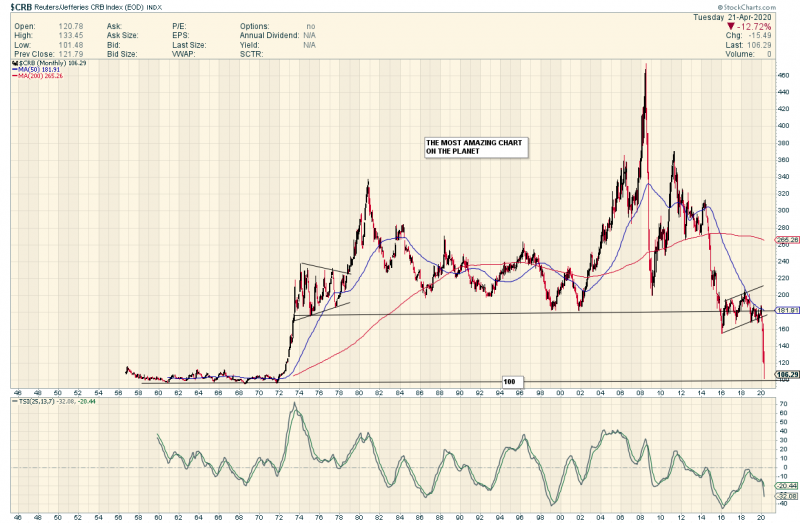 FEB 2 2020 I posted the potential for this just as the virus was becoming a thing.
https://goldtadise.com/?p=455805
……………..
RAMBUS WEEKEND REPORT MARCH 2017
"Below is a 75 year quarterly chart we were watching very closely during the last impulse move down, because it broke below the brown shaded support and resistance zone going all the way back to the early 1970's. When the price action was trading below the brown shaded S&R zone I speculated that we could see some reverse symmetry to the downside, as the rally back in the early 1970's was so vertical. Here we are a year or so later and the CRB index has rallied right up to the top of the brown shaded S&R zone at the 200 area. What had been support since the 1970's is now turning into resistance at the 200 area? Again, another important area to keep a close eye on."
……………..
Jan 13 2016
( 4 years ago ) Rambus first identified the possiblity that Commodities would drop to 1960s levels. This was the beginning of a 4 year Bear Flag that has just Fullfilled it's destiny
If I'm Honest I NEVER in my WILDEST DREAM thought this would play out.
And the possibility was of course ridiculed widely.
He posted many more charts over the years following this and never ruled out that this WOULD happen.
There was NO WHY it would happen …just THAT it would.
………………..
Fullgoldcrown ( for Rambus Chartology)