Great Interview by our friend Jon Manley with Dr. Ron Brown.
LOOK at This Guy's credentials…wow…Not chopped Liver.
https://muchadoaboutcorona.ca/covid-19-vaccines/#hl
ALL YOU NEED TO KNOW
Relative Versus Absolute Risk Reduction
MANLEY: So exactly how much risk reduction are the manufacturers crediting their vaccine with?
BROWN: The reduced risk of COVID-19 infection reported by the manufacturers is approximately 95%, which is an accurate relative risk reduction measure. However, missing from the vaccine reports are absolute risk reduction measures which are much more clinically relevant to the reduced risk of COVID-19 infection. The absolute risk reduction of the vaccines in the present critical appraisal is approximately 1%, indicating practically no clinical efficacy or usefulness of the vaccines to reduce COVID-19 infection.
MANLEY: Essentially, then you are saying for all practical purposes, the vaccine is useless and ineffective?
BROWN: For applied clinical and public health interventions, yes, they appear to be almost completely ineffective.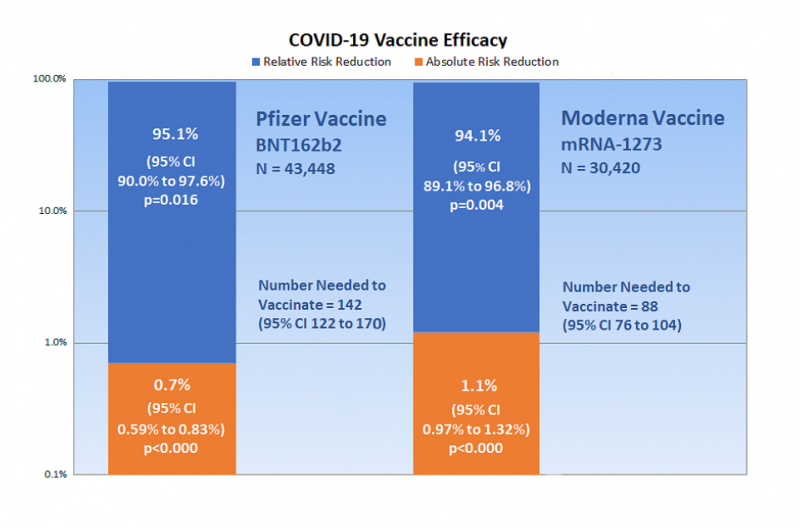 MANLEY: So, people are being led to believe that the COVID-19 vaccine(s) will all but eliminate their risks, when, the data suggests, it actually only makes a barely detectable difference?
BROWN: Correct. Some people may point out that 1% of a million vaccinated people are still 10,000 prevented symptomatic infections. Fair enough; then report a 1% reduction and see how many people are still interested in getting the vaccine. Furthermore, there is no reliable evidence that even a reported 1% reduction is valid. For example, normal saline solutions used in the placebo groups are associated with fevers and other symptoms common to coronavirus infections. The credibility of the entire enterprise is compromised.
The public should be cautious of modern day snake-oil salesmen. Characters like that make a buck by filling people with fear and then selling a worthless quick-fix remedy to them. In my opinion, that's exactly what's happening in this pandemic.
Bottomline: you have before you smoking-gun evidence of a huge public health scandal — if the word ever gets out!
…………………..
Bottom line for me is…If you took the vaccines because you thought they would almost certainly reduce your risk of serous illness …You are a Covidiot ! You risked your life for NOTHING and you are stuck with the potential long term effects . Good Luck…Fully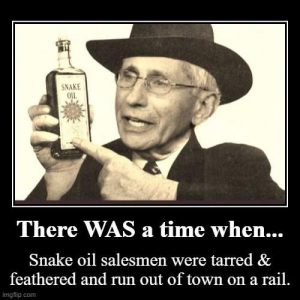 https://www.theblaze.com/news/rand-paul-dr-fauci-biden-covid
………………
OK..After reading the Study here is my understanding of what is meant by Absolute Risk Reduction.
Take the Moderna Study
1..15,000 were shot with the vaccine and 15,000 were shot with a placebo and neither the shooter or the shootee knew if they were giving / getting vaxxed or Not.
2…. 2 weeks after the second shot participants were asked if ..That Day… they had symptoms.
3…The first who reported symptoms were screened (PCR tested) for the virus
4…after 170 positives were found from this group, The Study was CLOSED. That's it , that's all !
5…Now they had a Cohort of 170 ( less than 1% of all participants) People with Covid Symptoms anywhere from sniffles to fevers and all the others …and from this cohort they would determine the Relative Risk of getting sick if you were positive.
6…Then they checked to see which group these symptomatic cases were in. 95% were from the placebo group…Thus a 95% protected rate in the Vaccine Group was deduced….AND THAT IS THE HEADLINE NUMBER THEY USE TO COERCE YOU TO TAKE THE VACCINE !
7….BUT Most Participants did NOT have symptoms…ie a High % of 30,000 participants either did not get Covid or did not get symptoms even if they did. REMEMBER NOT all PEOPLE WILL EVER GET "INFECTED" MANY HAVE INATE IMMUNITY.
8…When you do the math it turns out that on an Absolute Scale only 1 in a hundred were "saved" from getting symptoms.
9 That is to say for each 100 Individuals who are getting the shots….only 1 will get covid and NOT get symptoms ….the other 99 were not going to be symptomatic anyway.
10….What that means for YOU ! IF You get the shot the chances of it preventing symptoms that you otherwise would get is 1 in 100.
IF YOU WANT ONLY 1 LINE TAKEAWAY FROM ALL THIS STATISTICAL ANALYSIS …
EACH PERSON WHO TAKES THE SHOTS HAS A 1 IN 100 CHANCE OF HAVING THE BENIFIT OF REDUCED SYMPTOMS….
NOT REDUCED CHANCE OF DEATH MIND YOU..THE STUDY WAS NOT DESIGNED FOR AND DID NOT CHECK FOR THAT .
1 IN 100 CHANCE OF REDUCED SYMPTOMS FOR A DISEASE THAT 99.9% RECOVER FROM WITH NO VACCINE !
Now you are "Informed" ..Now you decide if you Consent.