IDAHO DOCTOR : IT'S SO OVER NOW ! WATCH FOR 30 MINUTES THEN YOU'RE DONE WITH COVID
This Guy KNOWS the Science ! Check Him Out ! Thanks Chuck W
https://www.youtube.com/watch?v=oA-fTaGadyc
1……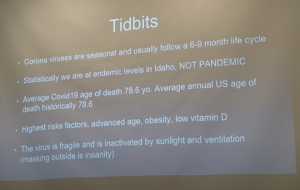 "The Virus is Fragile..It Cannot Live Outside ..UV Explodes it , Ventilation ( wind) Blows it away
It's Insanity to wear a mask outside"
…..
2…There is No Cold or Flu Season…only Low Vitamin D Season
3…IVERMECTIN !!!
WHY IS IT NOT AN APPROVED TREATMENT ? IF THERE IS AN APPROVED TREATMENT THERE CAN BE NO EMERGENCY USE VACCINE…BY LAW
It's found to be very effective against ALL Mutants as well as many different viruses .