ZINC IS :
A Immune Booster so potent it prevents ALL VIRUSES AND BACTERIA from harming your cells .
This article was sent by Karl
https://www.zerohedge.com/news/2020-08-05/hydroxychloroquine-and-coronavirus
This is very good news…MAYBE THE BEST NEWS IN THE HISTORY OF THE WORLD
The Bottom line is : WHAT THE WHO AND CDC AND ALL DO NOT WANT YOU TO KNOW .. HCQ WITH ZINC REALLY DOES WORK BUT YOU DON'T EVEN NEED THE HCQ:
Bullet Points :
1…Zinc has been proven by many many RCT studies ( ie real science) to have potent anti viral properties. Even the NIH ( not known to promote "natural" remedies says "Zinc is found in cells throughout the body. It helps the immune system fight off invading bacteria and viruses."
2…Many people who have the hardest time with Covid are zinc deficient .
3…Zinc needs to be transported through cell membranes by an ionophore ( binding agent) or it will have no benefit
4…There are a group of scientific researchers who have studied Ionophores and produced RCT studies which are very detailed and the results are wonderful
5…Hydroxychloroquine is a zinc ionophore. Thus the right dose of Zinc plus HCQ is a preventative and treatment for viral infections ( like Sars CoV2 )
6…The Nutrient Quercetin ( found in red apple and red onion skins ) is an even better ionophore than HCQ ..3X more potent in bringing zinc ions into the cells. It can be found in health food stores
7..Even better Green Tea has a powerful ionophore (ECGC) which is 6 X more potent than HCQ . Yes good old Green tea !
8…Zinc is found in foods too ….oysters and red meat are the best .
9…If you want to take a zinc supplement here is the protocol
A…40 mg / day max ( any more may actually inhibit immune function)
B..Take 1 hr before or 2 hrs after meals ( empty stomach)..before bed for example
C..Losanges are best
D…Have a cup of green tea daily so you have a reservoir of the ionophore ECGC always available to work with the zinc.
E…Pass this article on . make it go viral. Then
F…Buy this stock..it's the only Zinc Stock I could find with Volume ( huge) and a track record
Hindustan Zinc ( I zinc it must be an Indian Zinc Miner). Who Knew ?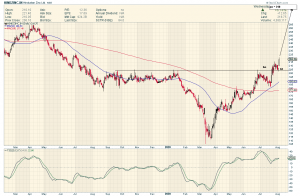 Thanks George Washington
Thanks Zero Hedge and
Thanks Dr. Simone Gold and friends and
Thanks Karl ( you just save the world)
PS…please don't post a wishy washy maybe this but maybe that response..You are a Super hero…don't blow it
🙂
NOW YOU CAN ALL TAKE OF THOSE DIRTY FACE RAGS AND KISS EACH OTHER AND HUG AND HIGH FIVE AND DITCH THE TOXIC HAND SANITIZER AND PICK YOUR NOSE AND GET BACK TO WORK AND SCHOOL AND PLAY AGAIN
sheesh
PASS IT ON !
PS …someone email Bill Gates and tell him he's Fooked !