Love them or hate them Barrick Gold , the worlds largest Gold Mining Stock is a leader.
We used to call them Darth Barrick as they had a couple of shady ex leaders ( Bush Sr and Mulrooney)
on their board….that cant be good ! And they hedged like 20 years of production…to supress the price of gold…all GATA stuff
Don't know about all that but its on ignore now.
I have had this chart on the backburner for a while…looks like this will play out IMO
But….not tomorrow , also not this month or likely not even this year.
This is a slow developing pattern and for symmetry lovers…it could go in for another 10 months.
Ha
Think back to last year at this time…The HUI et al were going Nucken Futz..It was wild…a V bounce off obscene lows….New Baby Bull…..
The Rocket Launch took ABX up 300% in like 9 months. ABX is NOT a tiny little junior with flash in the pan spikes.
9 months of a pure Goldbug orgy…with only a small % of Goldophile on board.
Spock was on board at THE bottom and incredibly with all this carnage his PF is up 290% as of now.
Of course something happened on the way to the moon and a predictably miserable "consolidation" is in the midst.
I am back in the Bull Camp…because of this ABX chart and Spock's chart on the 15 year cycle.
I don't think we have to rush though….
Maybe this time will be like Jan 2016 and take ofF so fast that many will be left at the station or at best chasing. But
I am going to start buying a few more rocks …hopefully at leisure…(if there is any in this wild west PM market .)
This is a LOG look ( which for newbies…is a format that tracks % moves rather than numerical moves….and lets face it its all about % Moves when you are betting er trading)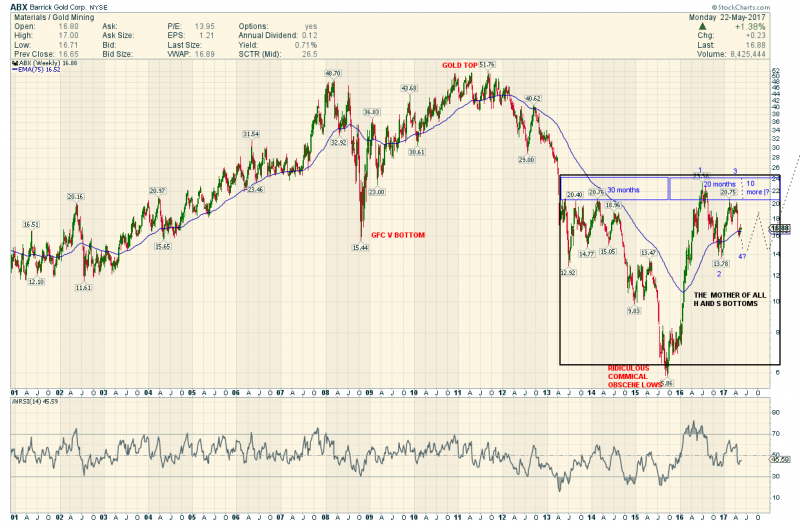 Cant see this retracing all the way to 6
….Fullys Fearless Freediction….6 was the forever low folks .
Anyhow…good luck to all you gold traders out there. More power to you for sticking with this Sector..(.like you have a choice ? …is an Addiction.)
Hey you teenagers…get out of here…before you end up like us…Hopeless Slaves to Kitco and Netdania.