WHO IN THIS WORLD HAS A GREATER MOTIVE TO EXPOSE AND DEFEAT THE DEEP STATE THAN THIS MAN ?
CAN'T WAIT TO WATCH THIS CAMPAIGN UNFOLD AND WATCH HOW THE DEEP STATE MEDIA "COVERS" IT ( D'ya think they will let brandon debate this guy ?)
Robert F. Kennedy Jr. Vows To Heal The Nation's Divide "By Telling The Truth To The American People."
Triumphant speech, over an hour speaking directly and powerfully, unscripted, to the nation's REAL problems: Poverty, Poisoning, Chronic Illness, the crushing of the middle class and the poor.
"I've come here today to announce my candidacy for the Democratic nomination for President of the United States…My mission over the next 18 months of this campaign and throughout my Presidency will be to end the corrupt merger of state corporate power….We have a new kind of corporate feudalism in our country to commoditize our children…to poison our children and our people, with chemicals and pharmaceutical drugs, to strip-mine our assets, to hollow out the middle class and keep us in a constant state of war. "
Robert F. Kennedy Jr.
https://celiafarber.substack.com/p/triumph-robert-f-kennedy-jr-vows?utm_source=cross-post&publication_id=257742&post_id=115998078&isFreemail=true&utm_campaign=475124&utm_medium=email
I love Trump BUT you gotta admint this guy has more grace and Dignity in his pinky than the Orange Man has in total
……………..
Here is the Campaign Slogan…It's a WINNER ( there are Millions of Dems who have been "forced" to accept and go along with this radical left wing insanity because they can ONLY vote Democrat ..it's a DNA thing ! ) They have been essently without representation for decades…since Obamanation.
IF the DNC tries to cancell Kennedy ..there will be a huge rift in the Party…He will go Third Party IMO…and that will get interesting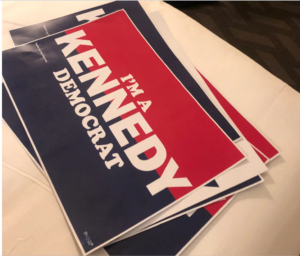 We will have a regular Poll as the Campaingn sesason gets into Full Swing
We had 1/3 of the Goldtenters who were willing to wait and see regarding Trump vs Kennedy
The Demorards have a BIG problem on their hands…They know Brandon is in rapid mental decline AND THAT HIS CORRUPTION IS ALL COMING OUT NOW.. but who do they have that can match RFK Jr >?
NOBODY..THATS WHO !!
hA
FULL SPEECH…YOU OWE IT TO YOURSELVES TO WATCH THIS
Pass the popcorn