SUE THE BASTARDS
https://stevekirsch.substack.com/p/covid-litigation-lawyer-directory?utm_source=post-email-title&publication_id=548354&post_id=105960994&isFreemail=true&utm_medium=email
Gonna be a LOT of Surprise Servings Methinks.
FORMIDABLE GROUP HERE…INCLUDING JEFF CHILDERS , ROBERT BARNES , ROBT MALONE . PIERRE KORRY , RYAN COLE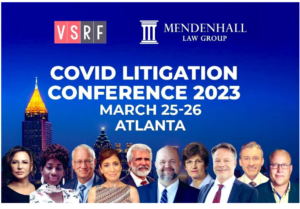 ………….
RELATED :
Bill Gates Arrest Warrant Issued in Philippines For 'Premeditated Murder' Linked To Vaccine Roll Out
https://newspunch.com/bill-gates-arrest-warrant-issued-in-philippines-for-premeditated-murder-linked-to-vaccine-roll-out/
AND
Costa Rica As Ground Zero For Justice? Comptroller Opens Investigation To Nullify Pfizer Contract & National Childrens Welfare (PANI) Becomes Third Party In IOJ Case Against State To STOP THE SHOTS!
https://interestofjustice.substack.com/p/costa-rica-as-ground-zero-for-justice?utm_source=post-email-title&publication_id=825071&post_id=106103689&isFreemail=true&token=eyJ1c2VyX2lkIjo0MTgxOTE1MiwicG9zdF9pZCI6MTA2MTAzNjg5LCJpYXQiOjE2Nzc4MTI4OTAsImV4cCI6MTY4MDQwNDg5MCwiaXNzIjoicHViLTgyNTA3MSIsInN1YiI6InBvc3QtcmVhY3Rpb24ifQ.7ypQphU4WLGa1mGfB2-ZJec9LEb1GMGurgDVCINF-vc&utm_medium=email