THIS SUMS IT UP PERFECTLY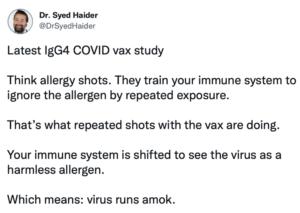 TWO IMPORTANT TAKEAWAYS ( from J C )
… First, "fully vaccinated" (two dose) folks may not yet be in the danger zone. The researchers didn't find IgG4 antibody replacement began in earnest until after the 3rd booster, and especially after the 3rd booster plus reinfection….
…..Also The results suggest the repeated shots — never before tried at scale, I might add — are overwhelming the body's immune system. In order to prevent "immune overload" (a deadly cascade of autoimmune problems), the body says, well boys, we'll just have to tolerate this for a while, stop shooting and buckle up.
Tolerance would explain both why boosted people are getting reinfected so often and also why their infections may appear mild. Their infections appear mild because the body is suppressing its systemic immune response: no fever, no headache, no congestion, no coughing. But their infection is raging away invisibly.