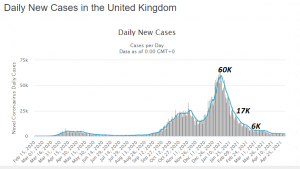 Above Graph shows
The peak on Jan 9 2021 ..60 k cases
One month later ..17 k cases
That's a huge drop in cases in 30 days
Astounding really 72%
Was this because of the vaccine as is being Claimed ?
NO !
Below Graph Shows Vaccination levels
On Feb 9 12 million people were vaccinated once but almost none had received 2 doses.
almost all of these vaccinated people were over 70 and most had just received their first dose within the last few days…
So are we to believe that with 17% of the Population partially vaxxed the drop in cases of 72% is corelated ?

Another example of Bullshit in the vaccine Narrative .
And 2 months after this peak of 60 K cases there were 6 K cases…a drop of over 90% ! Incredible !
But most certainly Not related to the vaccine program as from the graph ..on March 9th there were only about 2 million fully vaxxed people ( about 3% )
This is important because GB will be held up as THE MODEL proving vaccinations Work
There is absolutely NO correlation in this STEEP drop in Cases and the Vaccine Program !
None of the Vaxx Companies even claim there is decent immunity after only one shot.
The Steep decline in cases happened spontaneously …part of the bell curve .
Pass it On if you are challenged with this Scam .
PORTUGAL
NOT MUCH VACCINE ACTIVITY THERE AT ALL
BUT A SIMILAR DROP …FROM JAN 28 TO FEB 28 90% OF CASES…DISAPPEARED !