SHORT SHARP VIDEOS FROM THE HIGHWIRE
IF YOU CARE ABOUT LOVED ONES AND YOU WANT THEM TO UNDERSTAND THE VACCINES PLEASE JUST ASK THEM TO WATCH THESE 3 SHORT VIDEOS. NOTHING ELSE NEEDS TO BE SAID..NOT EVEN I TOLD YOU SO.
1…BREAKTHROUGH CASES..
Manufacturers and the CDC say ..It doesn't prevent infection and it doesn't prevent transmission..It is not a vaccine..it is simply a treatment to prevent mild symptoms
How does this Vaccine create Herd Immunity under these circumstances ?
How does a Vaccine "passport" ensure the safety of people at a concert when the "vaccine does not stop infection or spread ?
https://thehighwire.com/videos/did-you-catch-covid-19-after-getting-the-vaccine/
……………………
2…THE VARIANTS ..EXPLAINED
Ha…there is a claim that the vaccines are "Causing" the very mutations that Public health Covidiots
are warning about. 7 new vaccine resistant "Variants" and Climbing..I predict we will need to have a vaccine every morning before going out …self vaccination ?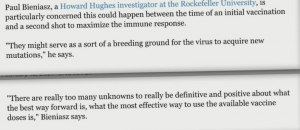 https://thehighwire.com/videos/experts-struggling-as-covid-mutates/
THE VACCINES ALLOW THE VIRUS TO LIVE ON IN OUR SYSTEMS AND MUTATE ..WHILE THEY ONLY PERPORTEDLY STOP THE EXPRESSION OF SYMPTOMS..IN THAT SENSE THEY ARE PERPETUATING COVID NOT STOPPING IT
IF YOU GET THE VIRUS ..YOUR IMMUNE SYSTEM CONQUERS IT..DESTROYS IT AND THE GIVES YOU LONG TERM IMMUNITY FROM IT. IN THE WHOLE WORLD OUT OF HUNDREDS OF MILLIONS OF CASES ONLY 6 PEOPLE HAVE BEEN CONFIRMED TO HAVE GOTTEN IT AGAIN.
……………………….
3…COVID "SAFETY DATA" POLICY FAILING
https://thehighwire.com/videos/covid-vaccine-safety-systems-failing/