You Will Own Nothing and You will be Happy :
Must Watch :
https://thehighwire.com/videos/the-covid-19-global-order/
Lowlights:
1…The whole World is now subjected to "Build Back Better "
2…CDC shows "study" proves 2 masks are better than 1….Studies were done on "Dummies"
Manequins don't breath….
Del shows a video of a guy double masking in a place where its very cold and water vapor is being breathed out…It Floods our around the edges of the masks…unimpeded…case dismissed …exhaled vapor is always escaping when one breaths out..and thats where the virus lives…COVIDIOTS
3…They Play a Clip from Med Page ( a Medical Journal Blog where a Prominent Epdemiologist from John's Hopkins discusses the encouraging drop in cases lately . She says there have been 23 Million "documented" cases in USA which equates to AT Least 100,000,000 having had covid ( 30% of the population)and perhaps up to 200,000,000 ( 60%)!
Then she goes on to show studies that say reinfection is Infantissimal ( perhaps 6 cases world wide)
She postulates natural immunity will last from 10 years to a lifetime .
4…MSM news is now noticing perhaps natural demise of the "Virus"
India ( Via NPR)
5…Regarding Vaccine Induced Immunity …CDC Guidelines suggest it may only last 3 months…read this

6…Hundreds of Nursing Homes in multiple Countries reporting increased deaths after vaccination
Here is a Chart from the UK corelating Cumulative death trajectories with the increase in Vaccinations.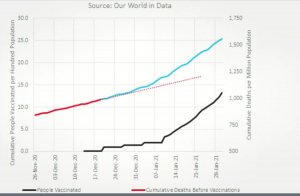 Curb Your Enthusiasm….after seeing their patients reactions to the vaccines it looks like Nursing Home Care Givers are less than enthused about the Vaxx from hell;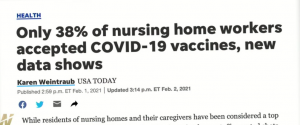 HIGHLIGHT
Watch the last 10 minutes from the 1:20 mark
Very Inspirational Passionate Rant from Del Bigtree….best Yet.
THEY are getting desperate…they have played their last card
They have silenced the Alternative narrative towards vaccines on every edia and ebery social network they control …which as we all know is 99 per cent of them…and STILL Millions of people watched this episode of the Highwire….Millions of people are sharing this information and discussing this.
THEY have their censorship and we have the TRUMP CARD….We have THE TRUTH ~