Scroll Down to "Watch"…Long 3 minute pause in the middle but stick with it.
https://thehighwire.com/watch/
Highlights
1..Covid = The Common Cold for 99.6 % of those presently "daignosed"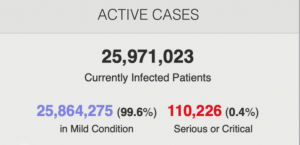 2….Last Month In the UK….they gave a bunch of people the first dose of Pfizer but then realized they dont have enough for the second dose so UK Health Officials said…ah…It's OK to mix and match
The second dose can be Moderna…we have lots of that;
….Also the UK health authorities said…ah what the hell…we can delay the second dose which should be 3 weeks later to up to 12 weeks later…and again The US Authorities were shocked and dismayed.
Then The CDC in the US essentially said …Thats Not OK…That is dangerous…there is Zero science on that…also the 2 Drug Companies said..Don't do it ..It's dangerous…also A. Fauci said they would never do that in the US
Now lo and behold…The CDC now :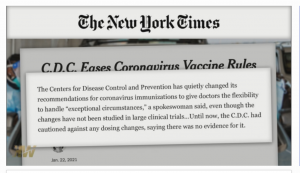 And A. Fauci
Did you all get that ? Fauci said that the science says you need to get the second vaccine 3 weeks after the first but he thinks its OK to wait 6 weeks…because thats only 2 weeks delayed
3 + 2 = 6. I told you that these Public Health Doctors…could never get real Doctor Jobs …because they are the dumbest of the dumb medical students…they are relegated to "Public" Health.
This guy is as dumb as a doorknob an much more dishonest as well.
"It's just logical that 2 masks are better than one…and three is even better…No one asked me about Oxygen !"
…………….
3..THIS IS PATHETIC FOLKS
There are many mutations being discovered now in various parts of the world
The South African Strain is said to contain 9 mutations in the genes that make up the spike protein
Which is the protein the mRNA Vaccine targets.
So Now Moderna says that their vaccine is NOT very effective ( 25% as effective ) agains this varient SOOOOOO
They are now rapidly developing a new vaccine to this variant and folks will now NEED 3 Vaccines to be "Safe"….That is…of course until the next mutation
No wonder Moderna stock is rising
3 Masks 3 Vaccines …O M G !
…………………
Fully's Prediction : The Real Pandemic has not even begun yet folks…The real pandemic will be Man Made…All these Vaccines are going to cause an epidemic of "ANTIBODY DEPENDENT ENHANCEMENT"
DEL HIGHLIGHTS THIS PHENOMENON WHICH WAS SEEN IN FERRETS WHEN A SARS 1 VACCINE WAS ATTEMPTED…THE FERRETS MADE WHAT LOOKE LIKE PERFECT ANTIBODIES BUT WHEN THEY WERE THEN INJECTED WITH WILD VIRUS..THAT ALL DIED. REASON …THE EARLY ANTIBODIES MADE ARE BINDING ANTIBODIES WHICH CARRY THE TARGET ( VIRUS) INTO THE CELLS …INSTEAD OF NEUTRALIZING ANTIBODIES WHICH ARE MADE AFTER THE SECOND "BOOSTER" SHOT and which prevent the virus entering your cells.
I predict there will be millions dying next…and a real Hospitalization Emergency …not because of the common cold virus but because of the vaccines.
Not saying this is intentional ( maybe is) but maybe its just a situation they were ignoring in order to get these things out there.
The Only way out of this scenario is after a million or so die …they do a simple check and they will notice…the ones who are dying are all the ones who were vaxxed.
I know many of you reading this have already been vaxxed or have loved ones who have…so I am sorry to be scaring you but this is a distinct possibility…and it IS based on scientific fact…not BS !
……………………..
4…Meanwhile Del is soul searching and asking WHAT IS GOING ON?
Why are there inexpensive non invasive readily available drugs HCQ and Ivermectin which have studies to show they are extremely effective Being Censored.
He finds the answer he is looking for Doctor Researcher Dr. Lee Merritt
It Turns out that For 40 YEARS it has been known by researchers that There ARE antiviral drugs that work…namely Hydroxychloroquine and Ivermectin…. AGAINST ALL VIRUSES !
For ever we have been told that there are no drugs to treat influenaza type illnesses ..and only a vaccine is helpful in preventing them…but if you get viral pneumonia there are no drugs to treat it.
This is a bold faced lie…perpetuated for no other reason than to sell Vaccines …because there is NO money in HCQ and Ivermectin as they are cheap to manufacture.
HOW SICK IS THE BIG PHARMA INDUSTRY ?
THEY SUPRESS THIS ANTIVIRAL INFORMATION BECAUSE THEY DON'T WANT THE MULTI BILLION $ VACCINE PROGRAM TO BE NULLIFIED. PERIOD .END OF STORY
EVERBODY needs to Get some HCQ and OR Ivermectin for their medicine cabinet…by hook or crook
THE BOMBSHELL THEORY
This Doctor is saying that the biggest reason to suppress the Anti Viral Drugs is the Psyop.
The USA was not taken down by the virus it was taken down by fear. IF there are simple antivirals out there…there would never be any reason to fear "biological" weapons.
Thats IT IMO !