THE HIGHWIRE…HOT OFF THE PRESS
ENTERTAINING AND INFORMATIVE AS ALWAYS
https://thehighwire.com/watch/
1…WATCH DEL MASTERFULLY DEFEND HIMSELF AGAINST MEDIA ATTACKS….
2…Adverse reactions close down mass vaxx sites
3…WHO Denies and disrespects our natural god given immunity…SICK as it Gets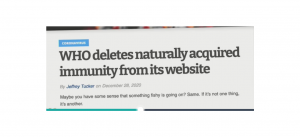 WHO DEFINITION HERD IMMUNITY ( BEFORE )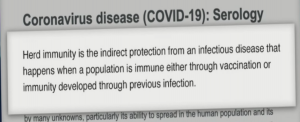 WHO NEW DEFINITION ( Last Month) …Perhaps the greatest most disgusting Lie in this whole legion of scamdemic lies

Ah…but after some pushback when they were caught in the act by astute researchers and after the head of Immunity Studies in the UK said that if vaccines cannot be shown to prevent spread ( as is the case) then we may have to open up societies and achieve herd immunity the Old Fashioned Way ! The WHO was forced to change the definition yet again… gotcha you creeps !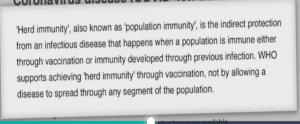 …………….
4…Vaccine Trials are Now Effectively OVER…there will be NO Long term Studies on the effects of the vaccines because Health Authorities have given in to demands by the Placebo groups to be vaccinated.
Therefore NO long term studies are possible since the Control Group is "Out of Control"
Take this vaccine and YOU are on your own long term folks..any disease you get in the future ..you will never know if it was caused by the vaccine…even though it very well could have been.
SHEESH ! If you are healthy and under 70 and you can't wait for this jab…You are a Covidiot !
………………
5…Mandated Flu Vax for Mass. Children rescinded due to Lawsuit by ICAN..Huge win .
6….A Doctor who has been auditing Covid death certificates in Minn. Has discovered that If a Hospital reaches a certain threshold ( 161 cases of covid in admitted patients) it is paid by the Government $77,000 per admission . This of course is HUGE incentive to "diagnose" covid in any patiend admitted for a broken leg or any other condition…It's a matter of Millions of dollars !!
Similar structure for hospital deaths…Any patient that dies from any cause but has been admitted "with covid" ..Covid MUST be listed as the TOP line Cause of death…MUST BE ( CD directive)
With this scam one Health Care Provider made 2 Billion Dollars in the Third Quarter alone !!!!!!!
And there is astonishing evidence that it appears Bill Gates "ordered" all possible or assumed cases of covid to be listed as the Primary cause of death ( not contributing cause) ..and that the CDC who promoted his order after receiving funding from Gates told hospitals and Doctors not to worry…there would be NO audit of this change in reporting of Covid related deaths.
Dell and the Doctor concur this is highly suspicious circumstantial fact.
7….PARENTS WHO WATCHED THIER BABIES DESCEND BEFORE THEIR EYES BECOME AUTISTIC AFTER EARLY VACCINATION ARE VINDICATED…ICAN FORCES CDC TO REMOVE FROM THEIR WEBSITE "VACCINES DO NOT CAUSE AUTISM"
THEY PROVED THAT THIS WAS NEVER EVER STUDIED AND THUS COULD NEVER HAVE STATED THIS. HUGE VICTORY.