https://www.zerohedge.com/geopolitical/global-covid-19-cases-top-500000-day-first-time-live-updates
But hold on a minute before you hide in the basement . Setting aside the facts that a case is rarely a case of disease and a death is rarely a death From covid , Take a reasoned look and what do we see ?
We see No change ( actually a decrease ) in Covid Deaths even though "Cases" have increased 600% since April.
According to Worldometer https://www.worldometers.info/
There have been 48,000,000 deaths in the world so far this year in about 290 days
Thats about 160,000 a day
There have been 1,100,000 deaths "with" covid which is an average of about 4,000 a day
On average 2.5% of the deaths per day are "with" covid
No Body knows for sure BUT assume only half of these died Because of covid ( probably high)
A little over 1% are dying from pneumonia related to Covid and most of these are over the age of 80
ie over the life expectancy .
And here is the ultimate proof there are no more deaths any where this year
https://goldtadise.com/?p=478300
As Chris in Ontario points out…there will have been about 1 Billion tests for covid by the end of the year . What IF there were 1 Billion tests for the Flu ? Would we see a Flu Case Pandemic ?
Yes For Sure !
Having said all of this…we will watch with 1 part detached amusement , 1 part disgust and 1 part horror as the whole world goes nuckin futz about these "cases" and begins once again to increase restrictions and lock downs leading to complete destruction of many sectors and crippling of all economic activity . Not to even mention millions and millions of deaths from starvation and untreated disease .
This is a Pandenmic for sure..A Pandemic of Stupidity .
……………
Actually it is a classic case of Chicken Little Syndrome
Chicken Little syndrome
Fearmongering – whether justified or not – can sometimes elicit a societal response called Chicken Little syndrome, described as "inferring catastrophic conclusions possibly resulting in paralysis". It has also been defined as "a sense of despair or passivity which blocks the audience from actions".
"The moral of the traditional Chicken Little story is to have courage, even when it feels like the sky is falling. The decision, as any adult, to learn to read and write is a courageous one.
HENNY PENNY 2020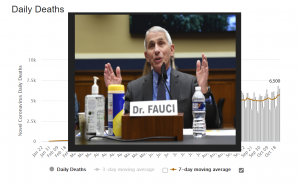 …………..
PS…The World is a BIG Place…despite the 6,000 deaths with covid today the net population Growth TODAY will be 160,000…think about that for a minute