Serology ( Antibody ) tests are now common place in many states.
And they are being reported on the sidebar of Worldometer Stats
Florida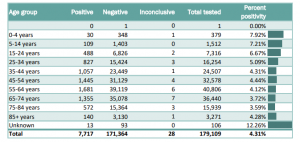 Interesting how high the kids are !
4.31% overall
Extrapolating for the whole State (21.5 million)
Just under 927,000 people are positive ( have had covid) and recovered based on antibodies
add the 77,000 who tested positive via swab tests and that's ~ 1 Million
They have had ~3000 deaths
So therefore .3% death rate per infection ( 3 out of 1000 ) in a state where the average age is quite high.
A huge % of the deaths were in the over 80 crowd with co morbidities.
That's not as serious as first thought when 6% was the number being thrown about .
Take it a logical step further 3,000 deaths in a state with 21.5 million
works out to 1.5 deaths per 100,000 people.
You are More likely to die from a hurricaine if you live in Florida
Good news.
Spread the word
Covid is not as lethal as we "thought"
MORE GOOD NEWS

PASS IT ON
ONE MORE
NY STATE TESTED 56,000 PeOPLE TODAY AND ONLY FOUND 620 POSITIVES
Which means 99% of tests were negative
Congratulations to 55,400 New Yorkers
https://covid19tracker.health.ny.gov/views/NYS-COVID19-Tracker/NYSDOHCOVID-19Tracker-Map?%3Aembed=yes&%3Atoolbar=no&%3Atabs=n
Pass it On !