Look at this divergence on these charts.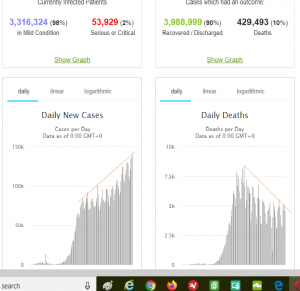 More and more cases worldwide and fewer and fewer deaths.
We need an ETF for this…Long cases and Short death . 🙂
Is the Virus loosing its power ?
Or are treatment protocols improving …Ventilators Out… Chloroquine and Bleach Injections In 🙂
Shhhhh !
Also 4 Million "diagnosed" patients and probably 10 times that Non diagnosed patients have recovered.
That's good news for 10s of millions of people. Woohoo and congratulations to each and every one of you.
You deserve to get the T Shirt "I Survived Covid"
Of the remaining cases 98% are considered mild… more good news you won't hear anywhere else but Goldtent !