OK
I am engaging with a young man , Bill.
He is a final year computer science student.
His father was a fan of Jim Sinclair and his Angels.
Bill was interested in Jim's Angels so he used them as a starting point to build
a Program that would monitor gold and it's significant turns.
I explained to Bill that we were all enamoured with Sinclair's Angels back in 2001 or so and they worked out very well initially.
But the whole angel thing blew up shortly after and then he enlisted Bo Polny the chiropractor to become his lead TA guy and we all know what happened..Sinclair became a fallen angel as did his Gold Mine !
I explained to Bill harshly that by using garbage in ( Angels) he would get Bullshit out.
Bill says his model calls for a gold top here 1740 followed by a trip down to I think ultimately 800.
I told him that he is nuts and that in Gold you cannot be taken seriously until you have had your models blow up and you ass handed to you at least 3 times.
Anyhow he is still badgering me so I decided to indulge him.
His model predicts that Newmont has peaked here ( 67ish ) and will now drop to 46 (35%) and then soar to 133 then back to 70 and then all the way to 300 !
My first inclination was to tell him to go fly a kite…but I decided to set up a Log Monthly Chart of Newmont from inception date
I have to admit what I saw was a big surprise…His Model predictions are certainly possible and actually very sound from a chartology perspective
However 46 would suck very badly if we go there any time soon.
Anyhow Bill…OK here is your scheme as you asked me to chart it.
The big surprise for me is we are near major resistance…we will not likely just blow thru it….there will likely be some kind of reaction down as you are modeling Bill…but 46 seems a stretch…there would have to be a BIG general market crash ,which would yet again affect gold stocks. I think we are past that and Gold stocks will at least hold on relatively .
But damn your numbers look OK on the chart
Note I cant send the arrows to 133 or 300 but you get the point.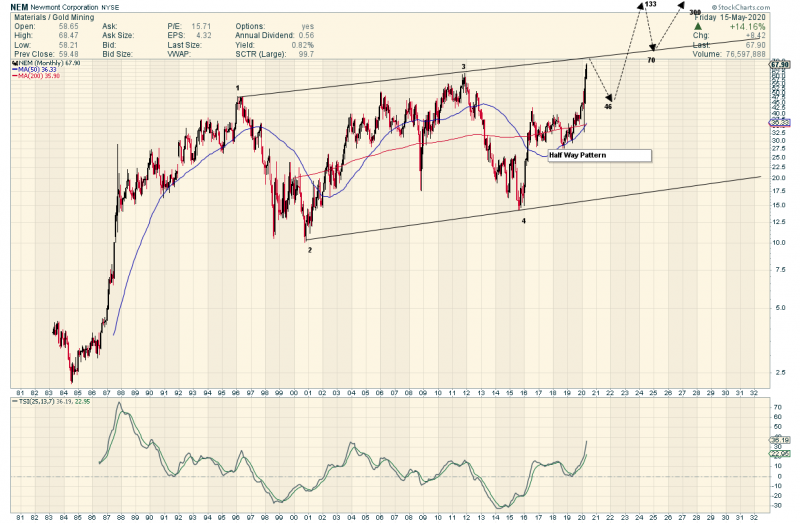 PS…Bill you are a PITA
🙂
PS : History Note
Notice that 10 bagger $2.50 to $25 in 1985 to 87….That happened as Gold rebounded from the 1980 crash going from 300 to 500
Notice the slight upward trend thru the mid 90s happened with Gold at about $425 an ounce and hardly any upward movement
This was the Bre-X years. Everything with the name Gold in it ( even Gold Bond) went nuckin futz
But when The head geologist of Bre-x Deguzman jumped or was pushed out of a helicopter in Borneo..all of these stocks went down with him shortly after…There was NO Gold in the Bre-x camp .
Even Newmont crashed post Bre-X
Anyhow this is quite chart…one to watch