There was a post on this board in the last week or so suggesting that multiple analysts, using different methods includes cycles and EW, are calling for an imminent bottom for either gold or the miners. (I can't remember which.)
So …based on my work, I don't agree, except short term. And Sam doesn't either. I know of several EW analysts looking for a bull move, one of which shall go un named. But I'm more than comfortable dissenting.
Here's Sam's most recent count.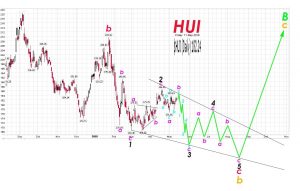 He's calling for an ED here, lasting through the summer. He believes we're in blue c up of pink b up.
My own work via GDX says blue c up hasn't started yet, but should soon …. must soon. It should be in five waves, so there should be plenty of opportunity to securely lash yourselves to the plank before we dive. I get the sense that some of you won't be able to resist the urge to turn bullish.