I am posting this chart here, as a proxy for investor current enthusiasm in exploration stocks, it clearly shows this sector needs some new discoveries and/or other stories to excite investors again.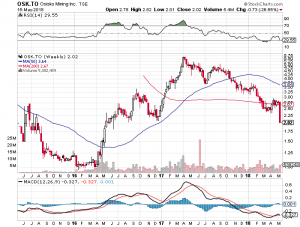 Yesterday OSK published its long awaited resource estimate, and apparently some investors did not like it.
At current value you have 3M high grade ounces at a valuation of 0.3 NAV, so this is not too expensive, compared with other low grade development plays.
I guess however the easy money to be made is not there, as once a discovery is published  its another ball game with metallurgy and other issues. Unless there is multiple room to grow deposit, investors prefer to pass to other stocks.
It remains to be seen at what level we will stabilize and attract value investors that like Osisko's asset as a cheap development play with capability to produce 200k+/year from 2021 on.