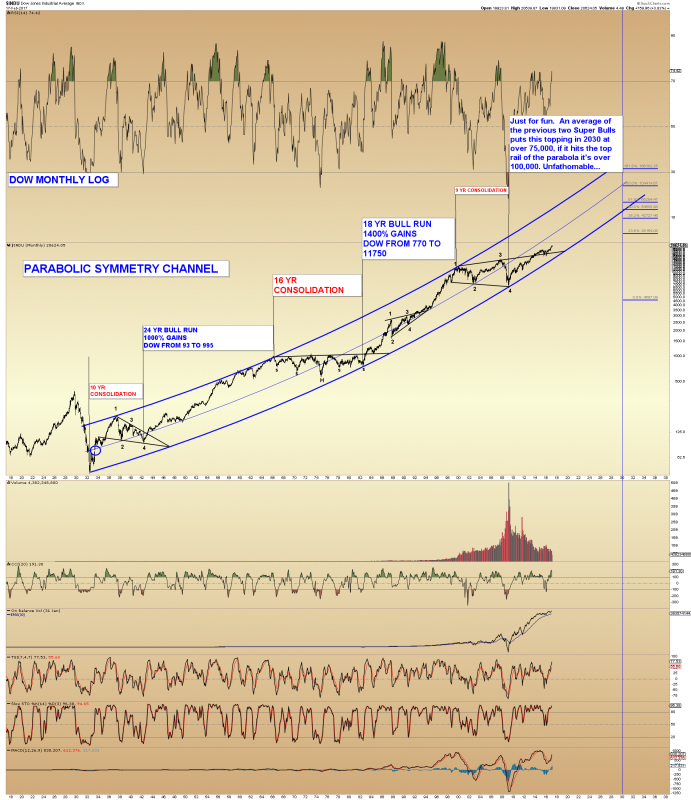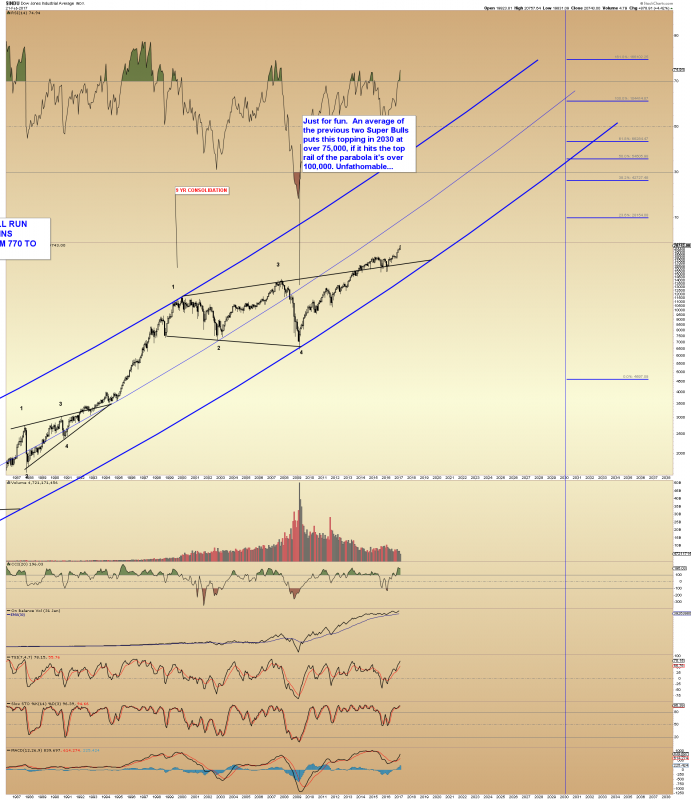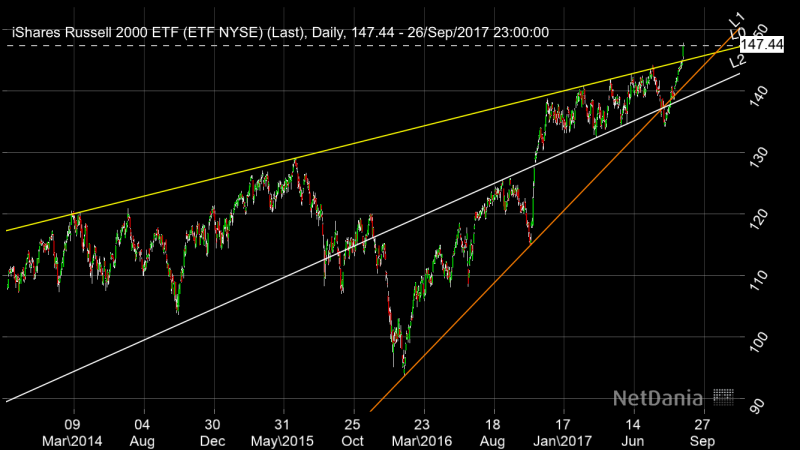 THESE ARE Sir Schism's GREAT charts from a while back. NOT MINE. Just reposting. His comments on this chart are VERY worth reading and HEAVILY influenced this call… Would love to actually see Sir Schism update these.(editing to say I just asked him! Hope you do!)
Second chart is zoomed in.
Edited second time just now to add today's Russell 2000 breakout. It broke out of a 3 year resistance. Up, up, and away…
Ok. Here's the point of this post:
In the post I did earlier today, in a response to Sir Eagle, I said I thought that stocks would go MUCH, MUCH Higher.
I said I thought the Dow would top between 70,000-100,000 Dow before the end of Trump's SECOND TERM. There I said it.
Sir Fully about laughed me off the forum and double dog dared me to make that call for you guys to see. Lol. Here it is Fully!
If you look at the zoomed in Sir Schism chart and do the right look you can see that, in about 2023, we could hit the top parabola at about 100,000 Dow.
So I'm cheating using Sir Schism's chart, but what are the odds on Trump having a second term right now? Have to be about 100/1. I'll take that bet! He'll have two terms…
America's about to be great again for two terms :-)….. you heard it here first… sorry if that bothers some of you!
Disclaimer: Maybe America is just great again financially! His comments have sucked and been divisive lately! Ugh. Needs to keep his loud mouth shut and just pass his corporate tax cuts instantly dropping forward P/E ratios.
When will the major, major crash come? Cause we all know we're just blowing bubbles here… I'll exit stocks when the top parabola is hit that's for sure…
Maybe the top for stocks and the dollar happens (and bottom for commodities) in the last year or two of Trump's second term when they're trying to figure out his successor… at first it will be a slow descent and then bombs away, the real crash, after the successor president is in…
P.s. maybe that stupid reset that Deepthroat predicted happens when commodities are low….
P.s.s. I promise I'm not intoxicated or on drugs as I type this 🙂