This was posted at the Chartology Forum By Plunger. Plunger is a Loyal Chartology Forum Poster. Sometimes he also posts his work here at the TENT but unfortunately for tenters this was kept "in house"
Best Call of the year Award :
…………………………………………….
Oil-Flat tops make for big drops
Plunger
March 8, 2017,10:08 am
Forum Chat
That's the principle here. Currently my "big trade". Its either breaking down here or shaking out before an upside move. My bet is its a decline, based on several things not least of which is the COT.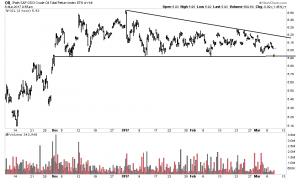 The next series of charts show the particulars. Weekly has a well positioned stochastics. The second chart (the 4-horseman) shows the riders all in alignment to the downside and note the Chandler exit is ready to get triggered and the BB have narrowed and now in the midst of expanding. Finally on my standard daily it looks like it is just at the cusp of a cliff dive. Note the 150 EMA has been violated with a downside gap across it.
My preferred vehicle is shorting UWT. 3X leverage with decay to boot. Plus it trades with volume. By Shorting I get the decay in my favor.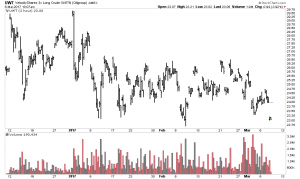 WELL HERE IS HOW THIS TURNED OUT MERE TRADING HOURS AFTER THIS POST
I closed out my oil short today around mid-day. Covered the UWT ETF around the 18.5 level. I remain bearish on oil, however my trading discipline required me to cover the short for now. Reason-because we were well extended outside the BB on day #2. A snap back is statistically a high probability. So I covered. By the end of the day it indeed began to snap back.
The second chart shows the BB excursion in oil itself. I will likely reenter the short if we get back inside the BB. The below chart in UWT shows the precipitous textbook collapse out of a flat top. Record this one in your trading files for what it looks like.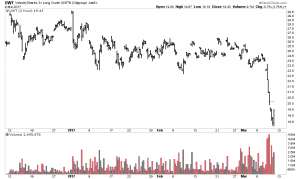 The catalyst for the breakdown in oil was the excess inventory numbers. Supply finally tipped the balance and the price structure allowed a rapid collapse. (Flat tops lead to big drops) Ultimately in the medium term I have a $42 price objective for this trade. Likely I will reenter the short side very soon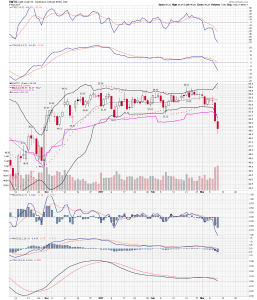 Regarding the PM sector. I still consider this a very dangerous crash prone market. I have covered my shorts as it is too extended on the downside for my risk tolerance. If we do get a downside whoosh (crashette) I will be buying long for a bounce trade
……………………….
Not Only did Plunger Nail Oil at the Chartology Forum but there is this Call made well before the bottom
Using the principle of Halfway Pattern Plunger used this chart to take a very large Short position in JNUG just before the hard fall !!!!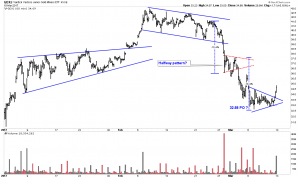 …………………………….
From KenS at the Chartology Forum
want to take a minute and say thanks to Sir Plunger. The last month or two you have been a tremendous help as I have navigated the crocodile and piranah filled waters we call PM trading. You have been a sane calm voice that helped make my trading a bit less nerve racking and certainly more productive than I would have been on my own. You have really taken it up a notch lately – your skill and experience as a trader shine through and I just want to say thanks.
……………………………..
Marty
March 11, 2017,4:54 am at 4:54 am
Terrific work Sir Plunger! I also agree that Rambus and his charts deserve huge credit and it will always be different for me now after learning his techniques. Keep the posts coming!
……………………………….
Xeo
March 11, 2017,1:36 am at 1:36 am
I concur with KenS!
……………………………….
Cervantes
March 11, 2017,5:15 am at 5:15 am
Yes me too, I want to thank Rambus, and Plunger of course. But, but. In the long term I´m confident in Spock, and his rocks. I think we can catch some 100 baggers there (maybe more).
And of course thanks to this forum, and Fully in Goldtadise. I´ve been lucky finding this community where I can earn money, and lot of experience. Thank you all!
………………………………
Reply to KenS et al
Plunger
March 10, 2017,10:48 pm at 10:48 pm
Sometime your are in the zone sometimes you're not. I was fortunate in the last 2 weeks I found myself in the zone. The 2 trades short PMs and short oil were barn burners for me. I am out of the PM short, I will say looking at the chart below it looks like we are set for a bounce. Will be watching. I still think oil heads towards $42-45 in the short term.
That may not seem like a big move to some, but when something can set itself up so clearly one can have the confidence to take a big position. I was able to do this with both these trades.
I give a huge credit to Rambus. His charts are so objective and one can't find them anywhere else in the world. They give me a lot of guidance.
Just a caution however I am just a private investor trying to figure it out for myself. No agenda,(unlike many newsletter writers) allows me to turn on a dime, but I operate at a real disadvantage holding down a full time job often putting me disconnected from the market for 1-2 days. One just can't get it right all the time so we have to settle for the high probability trades and set-ups. And again as for me personally I just want to buy and hold for the long term, but we are not there yet
…………………………
Then there are his longer term positions he has been posting at the Forum in Scandium and others which are doing very well indeed
……………………….
To sum it all up to say Sir Plunger has a hot hand lately is an understatement. And Yes, for more, you need to join Rambus Chartology if you have not already done so as The Chartology Forum is exclusive to members and If you are already a member you need to start visiting the Forum on a regular basis.
These two calls alone have made many Forum members 6 figures in a matter of days !!
Well done Sir Plunger. You are a Chartolgist Emeritus , using your unique blend and understanding of Market Psychology and Chart Patterns you Nailed It !