I just posted this work at the Rambus Chartology Forum, which I owe for being one of the best technical analysis "teaching" sites on the planet. I've been asked to add a few things and publish here at Goldtent so this could get a wider audience.
I've been quiet for a long time. Nothing has made sense to me. I made a small fortune using the knowledge gained from the Sir Rambus site to play long and short but mostly short the PM miners. I had multiplied my money in my trading accounts by 13 in 2.5 years!
I was an absolute pig. I knew it. I was playing with the 3X leveraged ETF's. I absolutely knew they could wipe me out if I didn't stop playing with them. The false breakdown in January confused me beyond belief. I didn't expect it. The Dollar had broken out up. It was going to continue….
As confused as I was my charts told me, and I had many, that a temporary bottom was in for gold, but I kept waiting for a pullback to sell my shorts and enter long. I had done it so many times before. I could do it again…. This last move was diabolical though and almost straight up, and I kept waiting for a bigger pullback. It never materialized. DUST which I was trading went from $40 to $1.20. I was in and out several times so didn't lose all of that but at this moment my account is still slightly below where I started in 2013. I know I am not the only one to have made this mistake, but perhaps I am the first to publicly admit it.
I was a pig. I was a rookie Trader using WAY too much leverage, and I became slaughtered… It's what happens to pigs… I've learned a lot from it, and hope I'm much wiser and safer in the future.
I was a major contributor at the Rambus forum but had lost my money and my confidence, and recently had been afraid to post charts in fear of being wrong and hurting others. I didn't listen to Rambus, Spock, or Plunger who are other major contributors at the Rambus site that had all gone long gold and the miners. I thought I could salvage the trade. Rookie mistake beyond belief.
I didn't know if I'd ever post again. One of my good friends at Rambus Forum, Sir Schism, encouraged me to, and when I came up with this theory I felt absolutely compelled to do so.
I didn't see this 2016 run up coming just like I didn't see the 2008 drop in Gold and the HUI coming.
Keep these two runs in mind: the 2008 drop and this present 2016 surge.
At the end of 2015, the thought process of pretty much everyone at the Rambus site was that we were about to see the deflationary collapse of our lifetime. Everyone abandoned this when we started this surge in the miners, but I propose we've just had a Midpoint Pause like the 2008 drop. This is what the charts are telling me.
I have come up with this theory:
WHAT WE'VE JUST SEEN WITH THIS MAJOR RUN UP IS A MIRROR OF the 2008 drop. The 2002-2011 bull run in gold could not continue without shaking everyone off in 2008.
The current major bear in gold could not continue without shaking off every last bear, or eviscerating their accounts with the diabolical DUST, in 2016 and sucking back in every last bull…
MIRRORS TO 2008 IN THE XAU: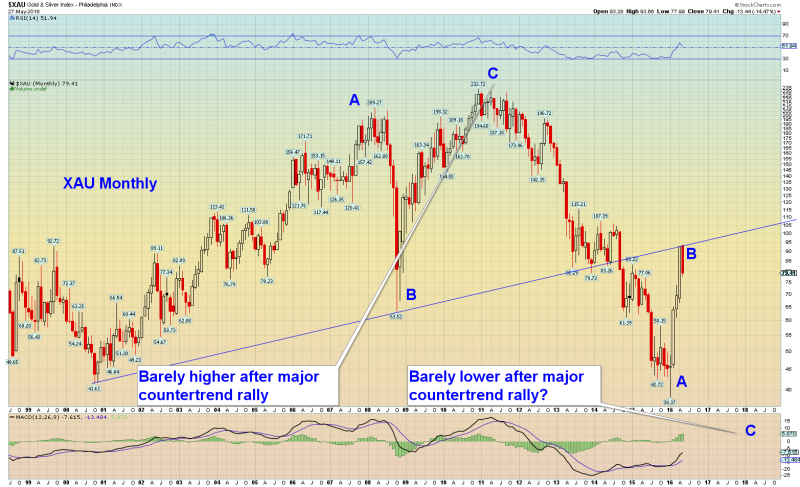 I love how this MAJOR breakdown line has just been backtested on Gold and the XAU…
I believe the XAU will barely make lower lows just like the miners barely made higher highs in 2011.
I believe gold will make incredibly lower lows just like it made incredibly higher highs in 2011.
This means the ratio chart for $XAU:$GOLD which has fallen beyond belief has, according to this theory, bottomed.
MIRRORS TO 2008 IN GOLD: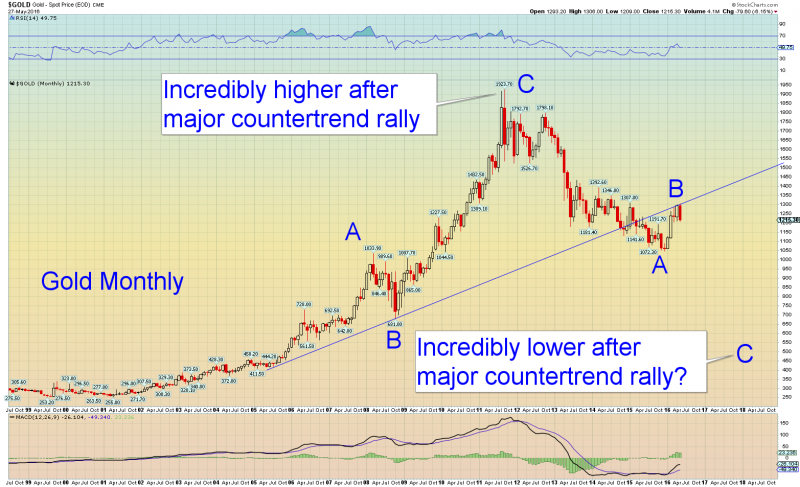 US Dollar Monthly (The Most Important Chart on the Planet)
This 800 lb Gorilla Dollar Breakout is going to make a lot of sense soon I believe…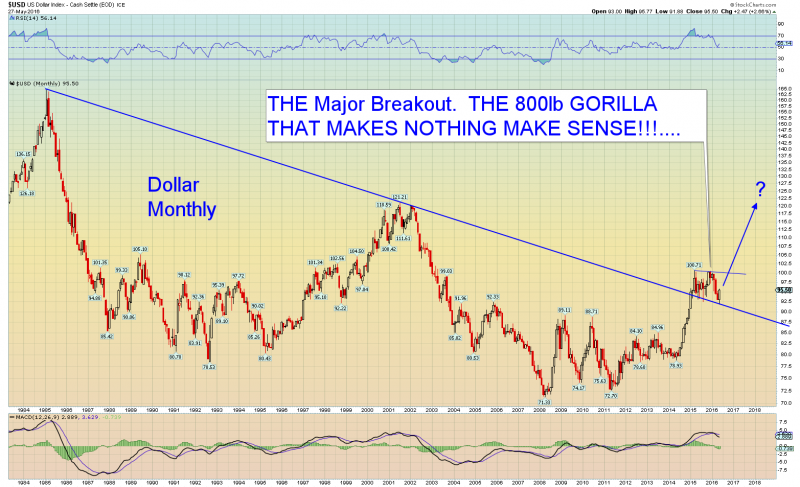 Euro Monthly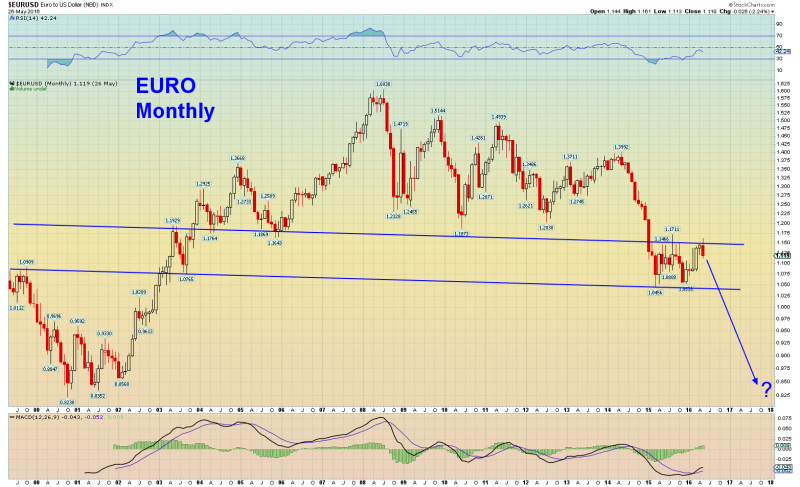 Yen Monthly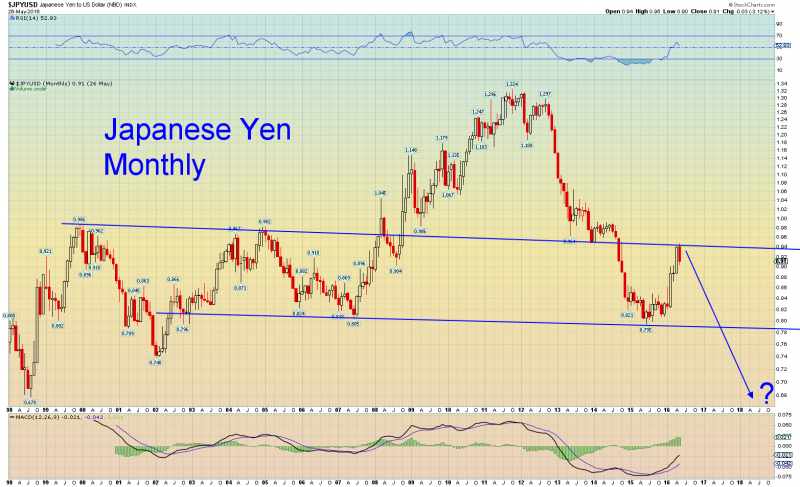 Dollar: Yen Monthly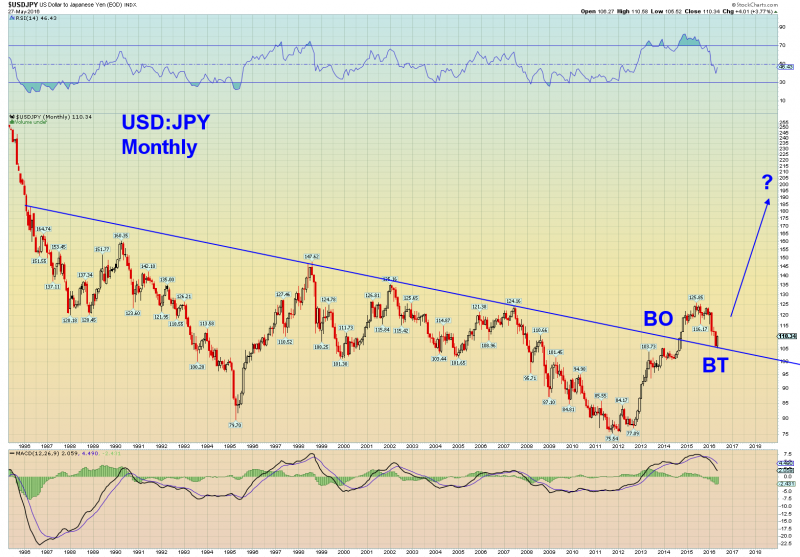 Subtle Signs…Euro Weekly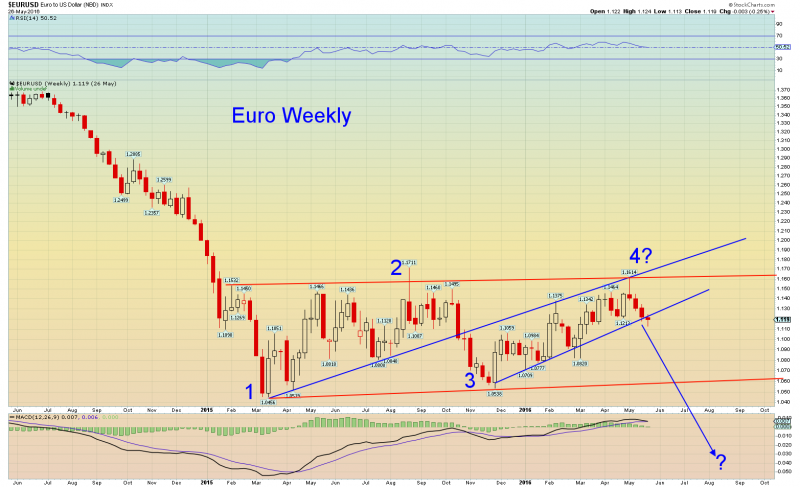 Am I right? Is this Possible? I have no idea. I'm searching… This though is what the charts are telling me… And they are very Compelling Monthly Charts
JUST A COUPLE OF MONTHS AGO SO MANY WERE EXPECTING INCREDIBLE LOWS FOR GOLD AND THE MINERS. NO ONE IS EXPECTING THIS NOW. THAT'S ONE MORE REASON WHY IT MAY BE CORRECT NOW…
Good luck. I pray and hope I'm helping and not hurting…
Oh and one More Important Chart to consider in this "Hyper Deflationary" Scenario:
Oil Monthly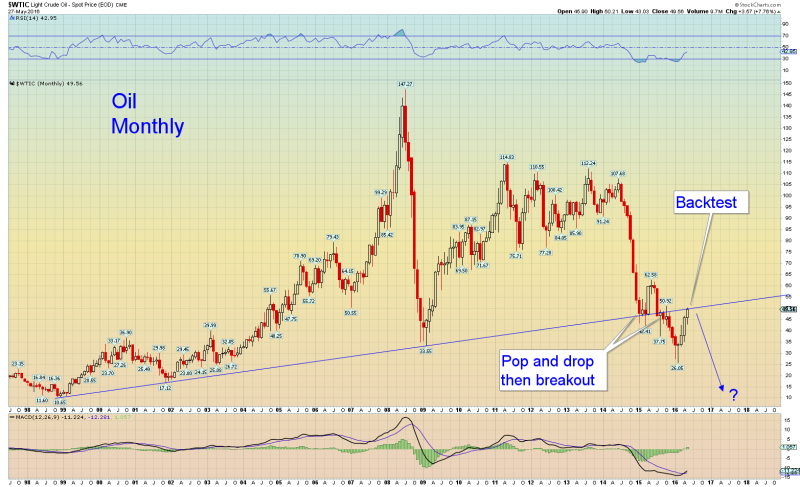 At the Rambus Chartology Forum we consider ourselves Knights at the Round Table with our main mission to Slay the Dragon, The PM Market…The PM market has proven to be a most deceptive dragon and formidable prey.
Please keep an open mind and remember:
All for one and One for all
Good luck,
Parabolic Chuck
Added :
Gold Right Shoulder