https://www.donaldjtrump.com/desk
ALL TRUMP AND ONLY TRUMP
NO ONE CAN CENSOR HIM NOW 🙂
Donald J. Trump
10:27am May 3, 2021
The Fraudulent Presidential Election of 2020 will be, from this day forth, known as THE BIG LIE!
Share
This will send Karen to her safe space and freak out millions of Trumpohobes
https://www.theepochtimes.com/mkt_breakingnews/trump-appears-to-launch-communications-platform-months-after-twitter-ban_3802447.html?utm_source=News&utm_medium=email&utm_campaign=breaking-2021-05-04-3&mktids=7c9f0acdda7f117fe8c00b9060c8c341&est=z4wOo6N7vwXTl7HAEX%2FB3QIMgVJ42zcbbuoVV1XzXtn6JtiFqYnx1A%3D%3D
Could this be why TWITTER IS IN THE SHITTER ?
Donald J. Trump
1:01pm April 30, 2021
Twitter stock "plunged" as results are no longer cutting it for investors. Shares are off 15% today. Bad forecasts are hurting the outlook but more importantly, in my opinion, it has become totally BORING as people flock to leave the site. Michael Nathanson stated, "the math doesn't make sense" as he lowered his price target. I guess that's what happens when you go against FREEDOM OF SPEECH! It will happen to others also.
Share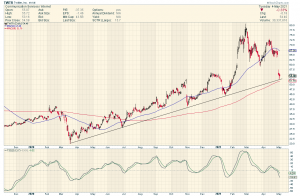 Saved by the Chartology …Amazing how that happens