Nobody watches GLD as closely as Dan
Dan strongly believes as the GLD Holding Go so Goes Gold . His view is that GLD is THE indicator to monitor sentiments
of western investor interest in Gold …which ultimately is the driver of the Price of Gold .
He has Charts going back to the beginning and is the only analyst out there who even comments on the GLD Holdings .
We all know from Sir Dreams at the Chartology Forum and others that "Traditional COT Analysis " is very bearish for Gold and that Gold is against Strong resistance on the charts and that indicators are showing overbought conditions and negative divergences .
Doom and Gloom
However : There is something everyone but Dan has dismissed or overlooked
Trader Dan
"When I first saw this afternoon's data from GLD, I had to refresh my browser as I thought it was an error.
The 732.96 tons ( 733 for the sake of rounding ) that I read was in my mind, 712.96, a slight reduction from the previous day especially since the gold shares moved a bit lower today and gold surrendered some of its gains later in the session on Friday afternoon.
However, 'twas not to be. That was indeed the actual number. We witnessed almost 20 tons of gold added in a single day, the largest daily increase since the start of this year and the largest single day increase since August 2011. (PLEASE NOTE – my eyes began to gloss over in going back through the historical data of GLD reported gold holdings changes so if any of the readers want to take more time to double check me on this, it would be appreciated). That is astonishing and is something that cannot be ignored by any objective market student. Clearly, Western-based investment demand for gold is surging.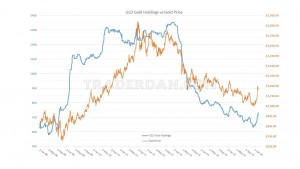 I will get more up about this on Saturday when I do my normal gold COT analysis "
…………………………
You wont see that chart on any other place on the www
It is Dan's own work taken painstakingly from GLD data going back to the beginning of this Important ETF
Dan's Subscribers are raving about his COT analysis too.
If you need only One Analyst to know what's really going on in the Gold market it's trader Dan
I know : I am such a tease
Fully