Read This Piece …all of it! Monty Guild explains Bidenflation more eloquently and reasonably than anyone !
From Monty Guild . Finally a REAL WORLD INFLATION INDEX . We all Knew Govt "official" inflation was Bull Shit …Now we have the proof !
Guild Basic Needs Index (GBNI). Here it is: up 30.7% year-on-year. (The GBNI is constructed to reflect the price of essential living expenditures, without statistical manipulation or adjustment
https://www.guildinvestment.com/2021/11/18/we-warned-you-it-would-be-hot-guild-basic-needs-index-up-30-7-year-on-year/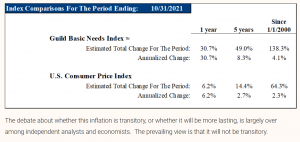 The GBNI concentrates on four fixed categories of primary and essential living needs. Each category is assigned a specific percentage of the overall index:
Food 30%
Clothing 10%
Shelter 30%
Energy 30%
Food, clothing, and shelter are self-explanatory, and energy is needed for basic heating, electricity, cooking, and transportation. The categories and their values within the GBNI are fixed, unlike the government indices. There is no tampering — no seasonal adjusting, smoothing, or replacing of components.
Let's Go Brandon