Thanksgiving Dinner Has Gotten More Expensive – Unless It's Priced in Silver and Gold
By Jeff Clark, Senior Analyst, GoldSilver.com
The American Farm Bureau Federation says the cost for all the ingredients of the traditional Thanksgiving dinner rose 5% this year, now $49.24.
No surprise it's higher in 2021. But our question here at GoldSilver is… do gold and silver offset this rise? That's a fair query, since gold is down 2% on the year and silver -6.1%.
Let's take a look…
Thanksgiving Dinner Priced in Silver & Gold
In 2001, the American Farm Bureau said the cost of the average Thanksgiving dinner was $35.08. Naturally, those costs, as well as gold and silver prices, have fluctuated over the past two decades.
But what's the trend? Can we be "thankful" on November 25 that gold and silver have preserved our buying power?
Here's how many ounces of gold it has taken to buy all the ingredients for the average Turkey day dinner since 2001 (we used the gold price on Nov 1 each year, or the first day of trading that month).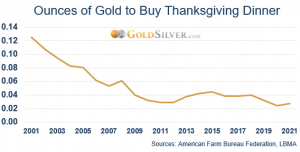 As usual, silver's ratio to a Thanksgiving meal is even more dramatic.