Very Interesting Take from Dr Steve Turley…Highly recommend you watch this…you can skip the promo
https://www.youtube.com/watch?v=-mEwptKKrO0
WOW…DID YOU ALL GET THAT ? THE TALIBAN IS A RIGHT WING CONSERVATIVE RELIGIOUS ORGANIZATION AND THEY WHO HAVE NOT CHANGED SINCE THE 7TH CENTURY
A BUNCH OF "BACKWARD" SHEEP HERDERS, OPIUM FARMERS AND NOMADS , WHO HAVE ALWAYS BELIEVED IN THEIR OWN ( SHARIA) LAWS HAVE DEFEATED THE MIGHTY USSR ( WHICH WENT ON TO DISINTIGRATE INTO MULTIPLE SMALLER COUNTIES BASED ON TRADITIONAL LOCAL VALUES)
AND NOW HAVE DEFEATED THE USA AND ITS GLOBALIST ALLIES (IE THE EUROZONE) BOTH OF WHICH MAY BE DESTINED TO THE SAME FATE
UNITED STATES NO MORE….UNITED EUROPE NO MORE….BACK TO THE SMALLER MORE PROSPEROUS MORE POPULIST CENTERED STATES
THE FALL OF AFGHANISTAN = THE FALL OF THE GLOBALISTS
WHAT A THEORY….I LIKE IT !
ps
Do these Guys look Vaccinated to you ?
Do they look like they give a shit about Klaus and his Nose Schwabs ?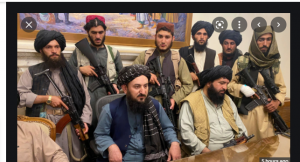 Certainly not masked or social distanced .
Do they look like they have been hiding at home from the Invisible Enemy ?
Do you think there are any LGBTQs in this Group ?
We have heard nothing but Horror Stories from this Group But when you get down to it
all they want is to be left alone to participate in their religion and society and their traditions which they STRONGLY believe in
All they were fighting for is their Freedom.
Are they really that much different from You and I ?
LOOK AT THEM …ARE THEY NOT THE GREATEST UNDERDOG STORY IN HISTORY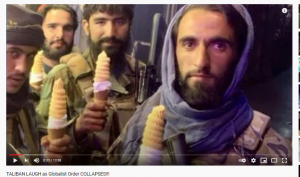 THEY BEAT ALL THE POWER IN THE WORLD
IF THEY CAN DO IT….WE CAN DO IT
ONWARD PILGRIMS
20 Years ago they were victims of the Biggest False Flag Event in History…
This little known little band of "bandits" was the subject of the WRATH of the "Civilized" World
Now 20 years after they are sitting in the Presidential Palace eating ice cream and mocking the "most powerful man in the world"
If you love an underdog…You have to love this outcome .