From JC again
In case you aren't tired of winning yet, in even more terrific counter-revolutionary news, the Guardian ran a story yesterday headlined "Republicans secure all statewide offices in Louisiana after sweeping runoff races." The sub-headline explained, "GOP win elections on Saturday in once-bipartisan state for attorney general, secretary of state and treasurer."
Come January, after Saturday night's three runoff elections, the GOP will control every single elected statewide office in Louisiana. Republicans swept all three runoffs: attorney general, secretary of state, and treasurer. Thus, after November's elections, Republicans in Louisiana have now joined Florida in holding a two-thirds supermajority in both the state house and the senate. It's now 28 Republicans to 11 democrats in the Louisiana Senate, and 73 Republicans to 32 democrats in the House.
All three of the runoff races won by a landslide. It wasn't even close.
These results pile on to the dramatic gubernatorial victory in October, when Trump-endorsed, anti-mandate, former attorney general Jeff Landry's definitively won the Governorship. Mr. Landry replaced eight-year incumbent and "moderate" Democrat John Bel Edwards, who'd termed out. Republicans now control the entire state of Louisiana, including in offices like insurance commissioner and commissioner of agriculture.
It is easily arguable that the Republican sweep of the previously-purple state was empowered by the pandemic and by democrat Governor Edwards' mandates, lockdowns, and overreach.
Not everyone was happy though. The Louisiana results badly triggered democrats. For example: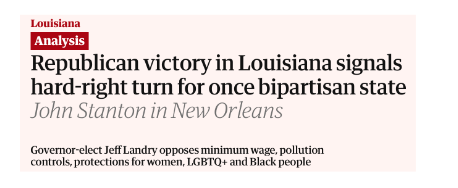 Oh, the horror! Yesterday, the "far right" won in Argentina and then the "hard-right" won in Louisiana. But — who do the democrats think are the "regular right?" The next story offers a clue.
? Finally, speaking of the far right and Louisiana, enjoy this rare look into what the other side really thinks of new Speaker Mike Johnson. The following clip a rant by long-time democrat political advisor James Carville, the "Ragin' Cajun," angrily warning other democrats about Mike Johnson's terrifying sincerity and the threat posed by "nice" "Christian Nationalists."
https://twitter.com/fiercefreckled/status/1726002350995788217?s=20&utm_source=substack&utm_medium=email