OK : Sit down and pour yourself a hot toddy and come with me for a trip down Memory Lane .
With a Twist at the end.
Original Rambus Members will Remember back in the early days of Rambus Chartology
Rambus was seeing a Head and Shoulders Topping Pattern in the HUI and all PM Indices
It was plain as Day … BUT nobody would believe it…nobody could see it even.. as we had just finished a very powerful 10 plus year BULL Market in PMs…Everybody felt we were still in just a correction before the next leg up
Everybody but Rambus :
……………………………………………….
BUT first a Post about 1 year PRIOR
May 3 2012 : ( There were only a Couple Dozen members at this time who would remember this post and warning)
The HUI BIG TOP ( Note: This Top Preceded the subsequent right Shoulder big BULL trap that was soon to follow
http://rambus1.com/2012/05/03/hui-update-51/
………………………
This ONE Chart post on Feb 15 2013… "What do YOU See ?" was one that finally got My attention
http://rambus1.com/2013/02/15/friday-night-chart-what-do-you-see/
Here is one that I Posted one week later Feb 22 2013…I posted this because Rambus was taking huge flak from the Gold Community
"Precious Metals Too Big to Fail ?
http://rambus1.com/2013/02/22/precious-metals-stocks-too-big-to-fail/
………………………………………
March 1 2013 : Friday Night Chart…The Elephant in the Room that Nobody Sees
http://rambus1.com/2013/03/01/friday-night-chart-2/
………………………………………….
Then the Infamous Post of April 14 2013 "Precious Metals Apocalypse Now , Rambus Showed the potential for PM Stocks to drop to AT LEAST their 2008 Crash Lows
http://rambus1.com/2013/04/14/how-sick-is-the-precious-metals-complex/
………………………………………….
OK …Amazing but that was then and this is NOW
Gone are the day when Rambus would go ALL in the "kamikaze" stocks (DUST and JDST )
We all learned our lesson back then..even with the huge drops in PMs and the 500% gains in DUST and JDST
it was hard to make money as these gains could turn to losses in a few hours of trading
However..IF one were to BUY JNUG with conviction in mid January this year and hold on till now..one would be UP
650% !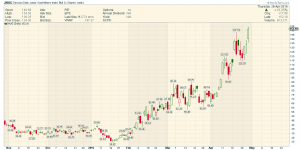 Holy HUI Batman a 1000 share investment at 20 JNUG would have made you $130,000 profit !
My Name is Fullgoldcrown and I am Still a Goldoholic
Sweet dreams