THE FDA / CDA PHARMA COMPLEX HAS NEVER EVER DONE ANY STUDIES TO COMPARE DISEASE OUTCOMES WITH VAXXED KIDS VS THE CONTROL GROUP. SO SOMEONE DID JUST THAT . THE CONTROL GROUP IS A TINY FRACTION …BUT THEY ARE OUT THERE AND THEY SPEAK LOUD AND CLEAR.
Here is THE answer .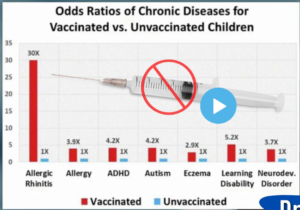 https://vigilantfox.substack.com/p/this-is-what-happens-when-you-dont?utm_source=post-email-title&publication_id=975571&post_id=136866323&utm_campaign=email-post-title&isFreemail=false&r=owbv4&utm_medium=email
VACCINES ARE BULLSHIT…ALL OF THEM…BULLSHIT ! BIGGEST CON CAME IN HISTORY !
Forcing Kids to Be Mianlined with all kinds of crap so they can go to Public "Schools" is Double Jepardy
You Must Poison your childs Body so we can poison their mind !
Pass this on…If any Parent or prospective parent is not interested in this travesty…they are not interested in their child's health and wellbeing .