OK….here is where we need to use our Critical Thinking and Take Information in and do some research and make a personal medical decision.
More and More people ( Millions every day) are coming to the correct conclusion the the spike protein
in both the virus AND in much higher concentrations in the Vaxx is a serious pathogen which travels …everywhere in many people and is causing disability sickness malaise and death .
SOOOO…EVERYONE WANTS TO KNOW IF THERE IS A WAY TO DETOXIFY FROM THE SPIKE !!
Inevitably our Fearless Doctors who are risking their livelihoods (and many have lost theirs..) would band together and find a possible / probable antidote ! AND…join forces and promote it….FOR PROFIT…of course….That is how the free market works
Well here it is for each of us to decide…Is this a potential way out for so many who have been poisoned…or is it just hopeful pie in the sky thinking…or worse
Drs McCullough , Risch and Alexander along with others are promoting Dr Vanderwater's Spike Protein Recovery Formula
Lifesaver or Snake Oil ? DYOD
https://palexander.substack.com/p/spike-protein-detoxifier-covid-gene?utm_source=substack&utm_campaign=post_embed&utm_medium=email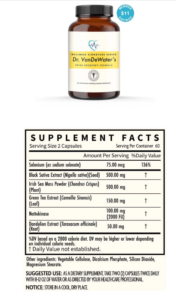 Personal Disclosure
I don't know about you all BUT I am already taking a shit load of supplements …And I am feeling pretty good…..Lets see if I can list them all
Vit C , Vit D (10,000 IU) , QUERCETIN , ZINC, SELENIUM, CIRCUMIN , PROBIOTICS , MAGNESIUM , RESERVRATROL , MILK THISLE , VIT B COMPLEX , GLUTATHIONE , NAC , NATTOKINASE , NITRIC OXIDE….AND OCCASIONAL Ivermectin
ALSO PINE NEEDLE / CEDAR TEA
YIKES !!! Are you insane Fully ? …Probably