REPOST !!
We at Rasmussen Reports, aren't sensationalists.
This is our biggest poll ever
Nearly half of Americans think COVID-19 vaccines may be to blame for many unexplained deaths, and more than a quarter say someone they know could be among the victims.
'Died Suddenly'? More Than 1-in-4 Think Someone They Know Died From COVID-19 Vaccines
73 MILLION ADULTS
https://citizenfreepress.com/breaking/rasmussen-our-biggest-poll-ever/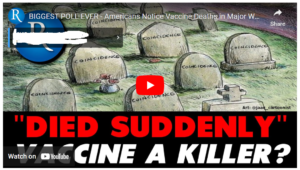 Some Juicy Tidbits
1…Sixty-nine percent (69%) of those who haven't gotten the COVID-19 vaccine think there are legitimate reasons to be concerned about the safety of COVID-19 vaccines, as do 40% of those who have gotten vaccinated against the virus.
2…More Democrats (85%) than Republicans (63%) or those not affiliated with either major party (64%) have been vaccinated against COVID-19. More Republicans (60%) than Democrats (44%) or the unaffiliated (43%) think there are legitimate reasons to be concerned about the safety of COVID-19 vaccines. However, there is less political difference in the number who suspect someone they know might have died from vaccine side effects – 33% of Democrats and 26% of both Republicans and the unaffiliated
……………
ADDED…IGOR'S TAKE IN THIS IMPORTANT SURVEY
https://igorchudov.substack.com/p/rasmussen-survey-on-covid-vaccine?utm_source=post-email-title&publication_id=441185&post_id=94310568&isFreemail=true&utm_medium=email