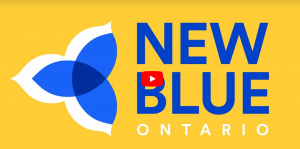 https://www.newblueontario.com/
Already a Successful Action
https://www.youtube.com/watch?v=S7-AknvN7zQ
At the same time Ford was making his announcement, his Ontario PC MPPs were trying to ram through a motion at the legislature to extend Ford's use of extraordinary emergency powers for seven more months – until December!
PC MPPs tried to introduce and pass the lockdown motion;
in one day without advance notice;
right before the long weekend;
two months before the current use of emergency powers are set to expire;
while distracting the media with Ford's announcement; and
by using an unrecorded voice vote so that the names of PC MPPs would not be listed in the official minutes of the debate.
New Blue MPP Belinda Karahalios (along with MPP Roman Baber and other opposition MPPs) led the charge against the motion.
Up until now the Political landscape in Ontario has been
Progressive Conservative…Left Wingnuts
Liberal………………..Far Left Wingnuts
New Democratic………….Communist Maniacs
We NEED a real Right Wing Party !
Support these Politicians …Pass it On