THIS AUTHOR HAS PERHAPS THE BEST CREDENTIALS OF ANYBODY IN THE WORLD :
Conspiracy Theory my Ass !
Must Watch Video…really must watch . Just a beautiful Brilliant Compassionate Couple
https://www.facebook.com/HighWireTalk/videos/bestseller-book-calls-out-covid-19/724682985056299/?__so__=permalink&__rv__=related_videos
The German version has sold 300,000 copies already
The English version will be out Oct 2
Here is a sample
I intend to Buy SEVERAL dozen and give them out to friends patients and family….the bank…the grocery store…everywhere !
Many will not open links to articles on line but everybody will be interested enough to open this book !!!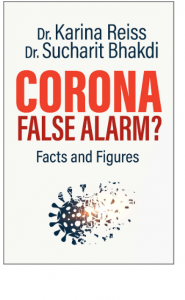 DESCRIPTION : https://www.chelseagreen.com/product/corona-false-alarm/
Pass it on !
There is NO other way to END this madness !
……………
Ha ! And while you are at it buy some copies of this Book…Published in 2006 !
"More relevant than ever as the Coronavirus, COVID-19 pandemic sweeps the globe, False Alarm (Originally released in 2008) reminds readers to look closely at the facts as the media covers the national pandemic news and spread of the virus, as well as reinforces the notion that we must arm ourselves against fear tactics that inhibit our abilities to properly make decisions in a world of uncertainty.
Life today for citizens of the developed world is safer, easier, and healthier than for any other people in history thanks to modern medicine, science, technology, and intelligence. So why is an epidemic of fear sweeping America? The answer, according to nationally renowned health commentator Dr. Marc Siegel, is that we live in an artificially created culture of fear. In False Alarm, Siegel identifies three major catalysts of the culture of fear—government, the media, and big pharma. With fascinating, blow-by-blow analyses of the most sensational false alarms of the past few years, he shows how these fearmongers manipulate our most primitive instincts—often without our even realizing it. False Alarm shows us how to look behind the hype and hysteria, inoculate ourselves against fear tactics, and develop the emotional and intellectual skills needed to take back our lives"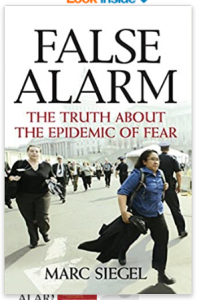 If I had young kids. I would home school them and on of the courses would be based on these 2 books !