$BKX Banking Index appears to be forming a halfway bear flag here. If that is correct, at least a 60% drop in the index over the next 18 months to 2 years is likely.
The banking system is a large corrupt inefficient fragile system, that is too big not to fail this time.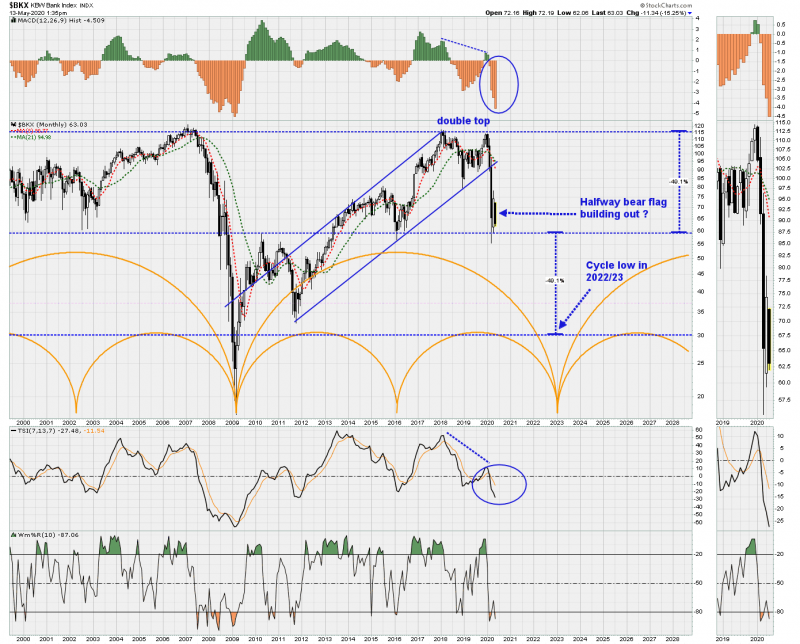 "The destruction caused by this man-made depression is permanent. The millions of small businesses demolished are not coming back. The unemployment rate will never approach 3.5% again, unless the BLS says 30 million people just left the labor market because they got independently wealthy in the stock market.
The number of corporate and personal bankruptcies will exceed anything seen in history. The mortgage, credit card and auto loan defaults are going to make 2009 look like a cake walk. The fear and panic inflicted by the government upon the psyches of the masses has insured bars, restaurants, airlines, cruises, stadiums, movie theaters and anywhere crowds formerly gathered will draw a fraction of what they did three months ago. This will lead to more bankruptcies.
The remote working arrangements forced upon companies will result in a glut of office space, as companies save money by no longer renting overpriced offices. The coming commercial real estate collapse will be one for the record books. Malls, which were barely staying alive before Covid-19, are done, as major retailers declare bankruptcy on a daily basis. Closed stores no longer employ workers.
People whose jobs are gone, with their meager savings depleted, will not be spending on frivilous gadgets and baubles. They won't be eating out three times per week. They will just be trying to sustain themselves. A society built upon 70% of its GDP coming from consumption is now doomed. The well oiled mechanism of lending money to people so they can buy shit they can't afford and paying them just enough to make the minimum payments has malfunctioned.
The state and local governments dependent upon sales taxes, gasoline taxes, income taxes, tolls, and property taxes to pay for their bloated bureaucracies are going to be overwhelmed with massive deficits, as their revenue streams have evaporated. This will bring the government pension crisis to a head years earlier than expected. The normal government action would be to increase taxes on the plebs. The plebs are broke and will not stand for higher taxes. They'll demand government layoff workers. This will just throw another log on the fire of discontent." TBP.