In our last publication of our weekly silver chartbook we advised the purchase of physical silver. It was timely since shortly thereafter shortages of physical precious metal deliveries were common. Coins and bullion are now being sold as much as 100% above the cash price. However, it isn't too late just yet. One can still have services  store physical silver on ones behalf in their vaults at fair prices. It is imperative this storage to be physical silver that you own. Watch out in your research for safe locations like Switzerland for example. Be aware that we are also in a time of fraudulent behavior booming. You may have been deprived of many rights all the way to house arrest in countries that enforced martial law. You are bombarded with negative news and an uncertain future. But this is No time for fear.
You simply can't afford decisions being made for you. It isn't easy to keep ones head up. It requires discipline like structuring ones day. Limited news exposure and a commitment to counter a scarcity environment with a positive stance. For some it is yoga and meditation, for others family time with fun and games. Choose entertainment that is filled with humor. Take care of your body and relationships. Do whatever it takes to be able to not be deprived of the most important decisions of your life. The course of your imminent and long term future for yourself and your family.Your wealth preservation and creation.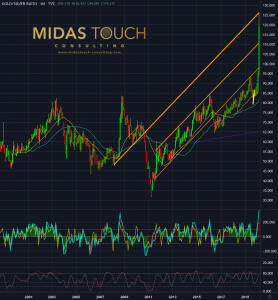 The Gold/Silver Ratio chart has never been so useful than right now. It clearly shows how undervalued silver is against gold. With a high of 126.43 the ratio hit our projected resistance. Quick action is often met by a forceful reaction. Meaning the same units of silver right now might buy you more gold in the future.
Silver Daily Chart: As Low Risk As Possible